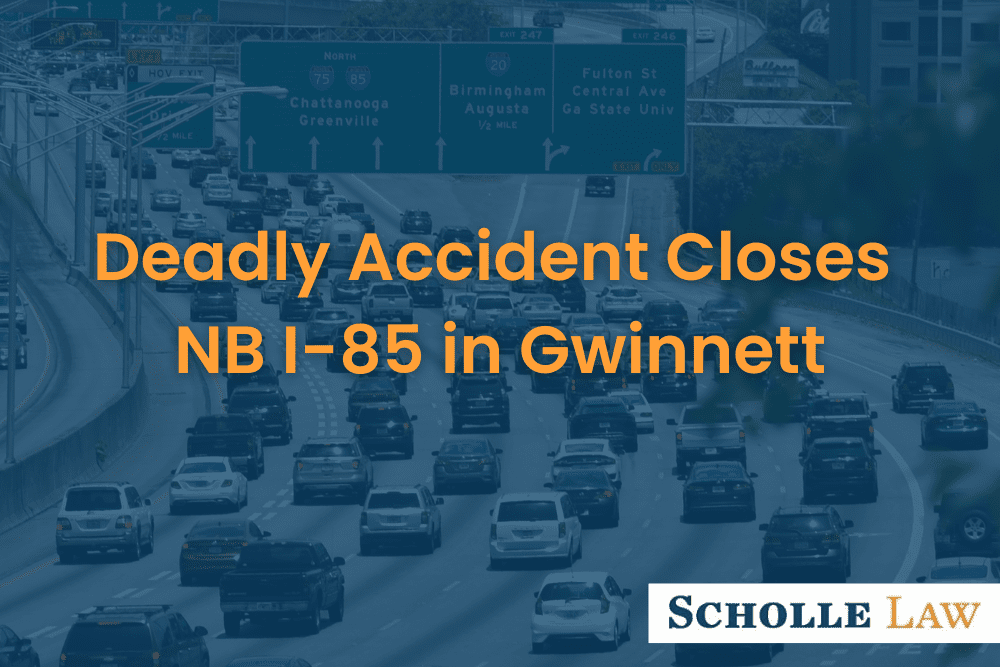 The evening of Sunday February 7th saw northbound lanes of Interstate 85 closed in Gwinnett County. The lane closures were due to a deadly multiple vehicle crash that occurred north of Pleasant Hill Road in Gwinnett County. Due to the fatal crash, law enforcement diverted traffic to exit 105 which is the SR 120 – Duluth, Lawrenceville exit.
Gwinnett Police indicated that the accident involved three vehicles. There was one fatality that resulted from the accident and an injured person was taken to Northside Hospital Gwinnett. Georgia Department of Transportation initially estimated the crash scene to be clear by 10:15 pm. This signaled the seriousness of the accident. Significant traffic delays are not uncommon while investigators and first responders worked the scene.
Traffic delays caused by bad accidents are can unfortunately lead to other traffic incidents. They can happen while first responders and law enforcement do their important work. If you live or travel in the Atlanta area, this is all too common. When you find yourself in a traffic jam due to a bad accident ahead, you may be able to be diverted. If so, you may find another route to your destination. If you are note able to do that, please drive carefully and be patient.
Safe driving tips for traffic jams
Do not weave in and out of traffic. If the road is closed ahead, there is no benefit from trying to move ahead by switching lanes.
Keep distance between your vehicle and the vehicle in front of you. If traffic is moving you do not want to rear end the vehicle in front of you.
Do not drive distracted. Even if traffic is slow or stopped, it is still unlawful to text or use your phone with your hands. It is also unsafe!
Follow the rules of the road and use your signals and mirrors.
Share the road and do not drive aggressively. No one likes traffic jams but causing a road rage incident or another accident is not going to do you or anyone else any good.
Our office extends our condolences to the family and loved ones of the person that lost their life in this accident. From time to time we report on accidents local to the communities we serve for the purpose of reminding people that our roads are very dangerous and it is crucial to always observe caution and safe driving practices while navigating our Georgia roads.
Fighting for the best
financial outcome for you
$4,300,000 Wrongful deathVerdict in Fulton County case against a bar for over-serving a patron. Client was family of young woman who was killed after she was hit by multiple vehicles on Interstate 285 in Atlanta.
$2,025,000 Wrongful deathSettlement for family of woman killed in collision with commercial driver. (2018)
Contact an experienced attorney
Scholle Law firm is a Duluth, Georgia based personal injury and accident law firm. Our firm handles serious vehicle accidents in Gwinnett County and the Atlanta metro area. For anyone that wants more information about how to move forward after a serious motor vehicle accident, please contact our office for a free case evaluation. It will not cost anything to speak to an experienced Scholle Law injury lawyer. Call us today.
To set up a meeting, call us today at (866) 592-1296 or contact us online.