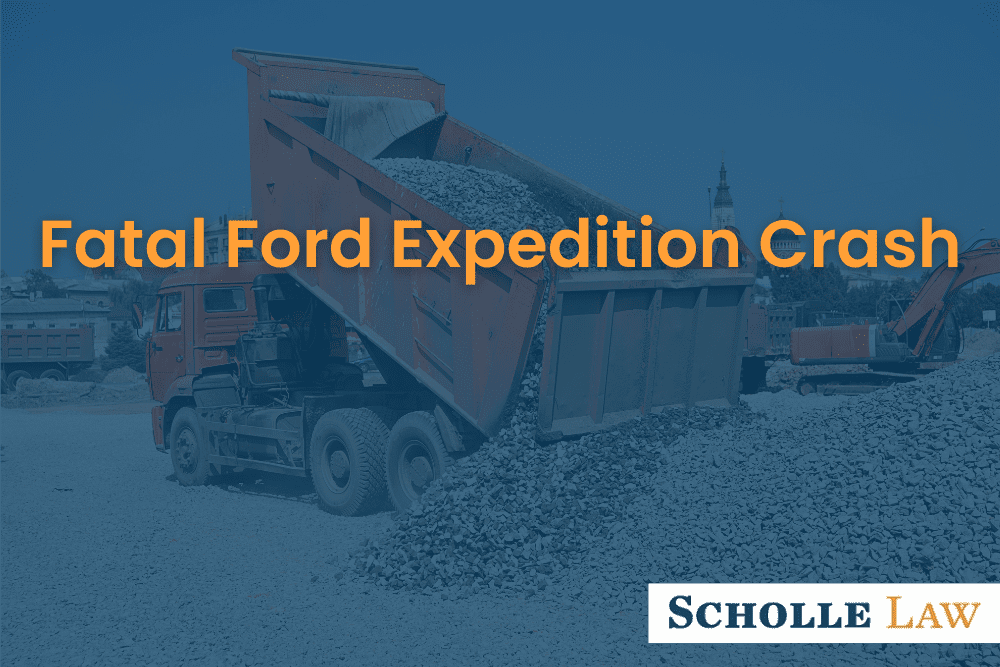 Anyone that has been following the news this week has certainly heard about the fatal Ford Expedition crash that occurred in southern California. The vehicle collided with a semi-truck carrying gravel. While all accidents can be tragic and shocking, national news is providing a lot of coverage about this accident due to the number of people that were traveling in the Ford Expedition. News agencies are reporting that the Ford Expedition was carrying 25 people.
Ford Expedition Broadsided on Driver Side
The description of the Fatal Ford Expedition crash is that the vehicle was broadsided or t-boned at an intersection. The driver of the SUV was killed and multiple people inside of the vehicle were fatally injured. Additionally, law enforcement reported that people were ejected upon impact. At least 13 of the 25 people inside of the Ford Expedition were killed. The driver of the semi-truck carrying two trailers of gravel was taken to the hospital with moderate injuries.
Cause of the Fatal Ford Expedition Crash
It is too soon to know the exact cause of the accident. However, some news coverage has indicated that the SUV "entered the intersection directly in front" of a Peterbilt truck. The commercial truck slammed into the driver side of the vehicle. The vehicle was a 1997 Ford Expedition. An internet search indicated that the 1997 Ford Expedition could seat up to nine people. If accurate, such a vehicle would have seatbelts for nine people.
1997 Ford Expedition Safe For 9 Passengers
Because there are different trim levels and different models of vehicles, we do not know exactly how many people could have been safely restrained in the vehicle. However, if the information about the 1997 Ford Expedition is correct, then at least 16 of the 25 people did not have a seatbelt on at the time of the crash. While a seatbelt is never a guarantee of anything, it could have certainly helped prevent some of the people from being ejected.
Accidents Involving Too Many Passengers
The issue of having enough seatbelts is secondary to the fact that the vehicle was operating with almost three times the amount of people that it could safely operate with. Driving with too many passengers is a serious safety risk. In the context of this safety message, this accident is not the typical scenario that is imagined when you warn against having too many people in a vehicle. To travel with too many passengers is traveling with at least one more person than the vehicle can safely accommodate.
Dangers of Driving With Too Many Passengers
Besides the aforementioned issue of having passengers in a vehicle without any safety restraints, driving with too many passengers can cause distractions for the driver. With too many people inside of a vehicle you could potentially have issues involving a driver's inability to see or hear because of too many people inside of the car. For instance, people in the vehicle could be involved in loud conversations that could distract the driver. Additionally, people sitting on top of one another could prevent a driver from being able to properly use the rear view mirror.
Too Many Passengers In the Back of a Truck
While Georgia law does not prevent people 18 and older from riding in the back of a pick-up truck on a highway, that is not a free pass on overfilling the truck bed with passengers. Traveling in the back of a truck can be very dangerous due to the fact that there are no restraints or protections. A passenger in the bed of a truck could be ejected and there is nothing keeping them inside of the vehicle in a collision or roll-over accident. Always use your best sensibilities if you are driving a pickup truck with passengers in the truck bed or if you are the passenger yourself.
Limos and Other For Hire Vehicles
The same concerns we are addressing for this safety topic may not apply in the same way to limos or other vehicles such as party buses or "stretch" vehicles famous for proms and wedding related events. However, prior to renting one of these vehicles for yourself or your loved ones it would be a good idea to inquire with the business about the safe number of passengers allowed on board. Also, ask about seat belts, licenses and insurance. This may seem like a lot of info just to rent something for an event, however you do not want to get involved in an accident inside of a unsafe, unlicensed or uninsured party vehicle.
Ford Expedition Accident Is Relevant Everywhere
Our office is based in Duluth, Georgia and we do not handle cases in California. Additionally, we are not involved in this accident and have no connection to it. However, we are discussing it here because this could have happened in Atlanta, Macon or Augusta. There are people that travel our Georgia roads every day in vehicles carrying too many passengers. They may do so because of economic reasons or because their vehicles are not equipped to meet their needs.
Whatever the reason is, we encourage people everywhere to please not ride unrestrained without a seatbelt. This includes the proper use of child restraints and car seats as well. Please do not drive a vehicle if your passengers cannot be safely restrained. These accidents can be deadly, but lives can be saved from not participating in this dangerous type of driving.
Our condolences go out to the victims and families of everyone involved in this tragic accident.
Duluth Georgia Car Accident Attorneys
If you would like assistance with an accident that resulted in injuries, please contact our office for a free case evaluation.