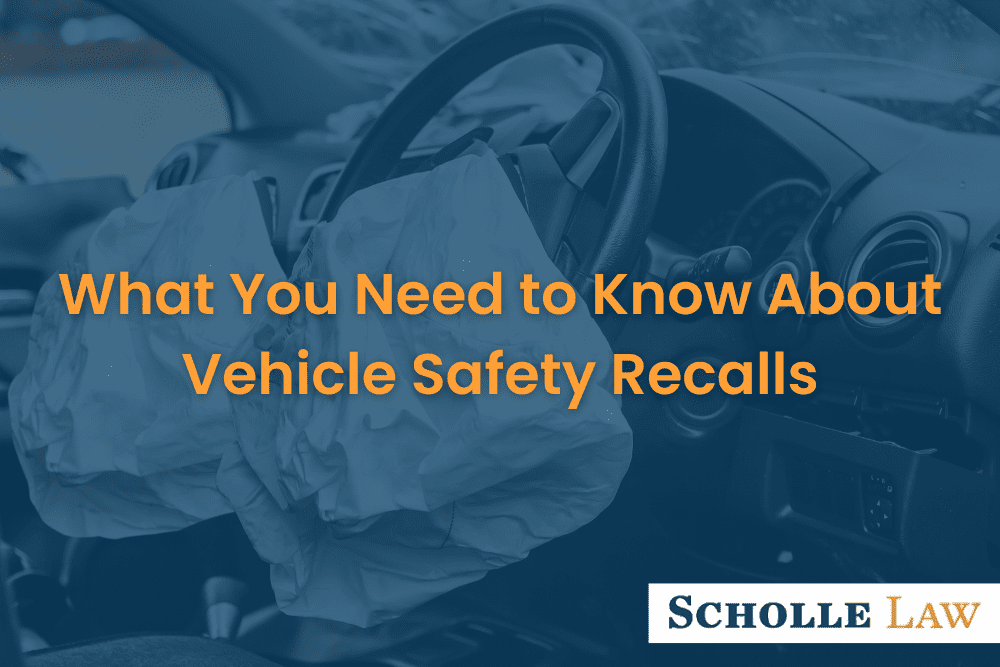 With the holidays in full swing, expect plenty of people traveling on our Georgia roads and highways.  Anyone planning to drive should always make sure that their car is in tip top shape.  Besides the tires, brakes, and fluids, do not forget to check to see if your vehicle has any outstanding manufacturer recalls that require repairs.
At the time of this article, more than 16 million cars and trucks are on the road in the U.S. with airbags that have been recalled. Additionally, this information from Fox 5 Atlanta News reports that there are close to 56 million total vehicles with outstanding recalls that require various other repairs.
How Do I Know If My Vehicle Is Recalled?
Generally, when someone owns a vehicle, the manufacturer of the vehicle will have the owner's information from the sale of the vehicle.  Typically, a car owner will find out about a recall by receiving a notice in the mail.  With large national recalls it is also possible to hear about the recalls on the news.  Our Georgia manufacturing defect attorneys recommend that everyone regularly check with the National Highway Transportation Safety Administration NHTSA recall website to see if their individual vehicle is subject to any recalls.
The NHTSA website has a tool that can help a vehicle owner locate recalls that their vehicle is subject to. To do so, all you need to know is your vehicle's Vehicle Identification Number (VIN) which can be found on your vehicle or usually on your vehicle's registration or insurance information.  Simply enter in you VIN number and the recall tool will provide any recall information if applicable.
Do I Need to Repair My Recalled Vehicle?
Vehicle owners should keep in mind that a recall may be as simple as a minor repair that can be completed by a brief visit to a dealer or repair shop. Additionally, some repairs may require more extensive work and the vehicle will need to be left with the dealer until the repairs can be completed.  In most cases the repairs will not cost the vehicle owner any money. In cases where a vehicle requires significant time in the shop, manufacturers will often assist with putting the vehicle owner in another vehicle until the repair can be completed.
While minor repairs may not seem like a big deal or you may not think you have the time to deal with a recall, please consider that all recalls are significant and that every one of them should be dealt with appropriately. If the issue was significant enough to warrant a recall in the first place, count on it being worth your time to complete the repair.  The Fox 5 Atlanta News story behind this article also discussed one of the most well known recalls in modern history: Takata Airbags.
The Largest Recall in American History
Takata Airbags were involved in the biggest vehicle recall in American history.  Vehicles from Ford, Honda, Mazda, Toyota, and many other manufacturers (19 in total) were involved with these faulty airbags. The issues with these airbags create a safety risk where people can be injured by shrapnel from the airbag inflator if it explodes. There have been more than 18 deaths in the United States and 200 injuries attributed to this Takata Airbag safety failure.  Worldwide the deaths and injuries are at 25 and 300, respectively.
Faulty Vehicles as Causes of Crash Injuries
Scholle Law encourages anyone with a vehicle subject to the Takata Airbag recall or any recall to act responsibly and get your vehicle repaired per the recall guidelines.
Manufacturing defect car accidents can cause extensive injuries. In these types of scenarios, a driver or passenger could be injured because an airbag or seatbelt did not perform correctly or if some other mechanical failure caused the vehicle to lose control. Causes of manufacturing defect accident related injuries have included:
Defective Automobile Roofs
Defective Car Door Latches
Defective Tires
Defective Seatbelts
Defective Airbags
Defective Seat Warmers
Georgia Manufacturing Defect Attorneys
Based on the facts of the case, an experienced injury firm will often start their representation with an investigation.  Such investigations are necessary because manufacturing defect cases are complex and always defended by aggressive insurance defense attorneys that will fight hard to shift blame and liability elsewhere. Investigating these types of injury cases may require the assistance of a subject matter expert that can attest to the defect, confirming it as the cause of the accident and injuries.   
The bottom line on these types of cases is to make sure to get a Georgia manufacturing defect attorney involved in your case as soon as you can.  The information needed to build a case is complicated and time is never on anyone's side with these cases because valuable evidence begins to dissipate as soon as the accidents occurs.
Serious Accidents Are Life Changing
Life changing injuries are forever.  It is not uncommon to see catastrophically injured accident victims requiring extensive medical care for the rest of their lives. While our firm is dedicated to making the world safer by holding negligent people and companies accountable, we are also fighting to make sure that our clients get the compensation that they will need to be able to move forward with their lives.
Compensation for catastrophic injuries or for a wrongful death suffered in Georgia can be extensive and complicated.  This can include money for long term medical care or replacement of income lost because of disability or death. Compensation for household contributions and care and companionship are also examples of potentially compensable damages.  These claims are complicated, make sure you speak to an experienced attorney who can help explain this very important information.
Call Scholle Law For a Free Consultation
Anyone suffering from the effects of serious accident or injury can call Scholle Law for a free consultation with an experienced Georgia personal injury attorney. We take pride in the responsibility of being there to guide our clients through difficult times. During our call we will do our best to provide you with helpful information and a discussion of how we may be able to assist with your potential case. Let our 20+ years of dedicated advocacy be a resource and please know that we are here to help.
To set up a meeting, call us today at (866) 592-1296 or contact us online.