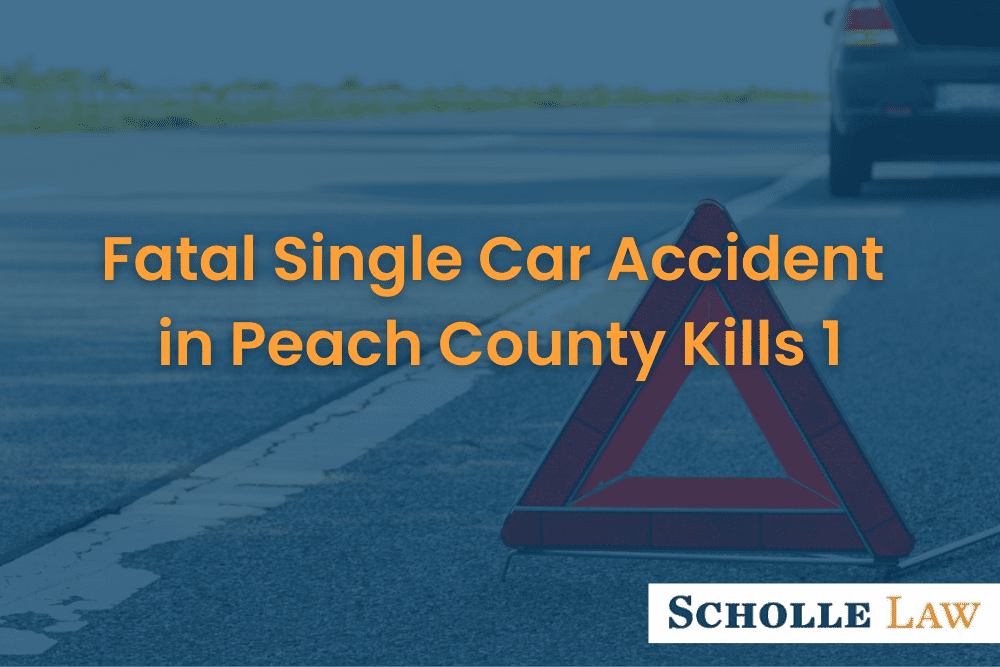 The Georgia Department of Transportation (GDOT) released multiple travel alerts related to a single vehicle accident that occurred on Georgia 96 between Knoxville Street and Campus Drive (Mile Post 4.58 to 3.82). All lanes on Georgia 96 were blocked and the communication from the GDOT's Twitter account indicated that the scene would take several hours to clear.
Peach County Georgia is located in central Georgia and includes the cities of Fort Valley and Byron. Interstate 75 runs through Peach County the cities of Warner Robins and Perry are within a relative close distance. State Route 96 (SR 96) is a 95 mile long state highway that is routed east to west. The state road runs through Talbot County, Taylor County, Crawford County, Peach County, Houston County. Twiggs County and Wilkinson County.
The Georgia State Patrol reported that the accident involved one vehicle, a 2005 Nissan Murano. That accident happened near William Drive. The initial reporting is that the driver of the 2005 Nissan Murano failed to maintain their lane and traveled onto the south shoulder before re-entering the roadway, traveling the north shoulder and colliding with a tree. Unfortunately the driver did not survive this accident.

Single Vehicle Accidents
Single vehicle accidents often require an thorough investigation to determine the cause(s). This is especially true when there is a fatality and no witnesses or passengers to indicate what happened. Investigations into single vehicle accidents can involve mechanical inspections and pulling data from the vehicle's "black box" to indicate important data such as speed and whether or not a driver applied breaks prior to the collision.
Depending on the cause of a single vehicle accident, our law firm may be able to assist with someone that has been seriously injured in a single vehicle accident. For instance, a passenger injured in a single vehicle accident may have a case for their personal injuries and damages if the vehicle's operator was negligent. In other cases we have investigated cases where a single vehicle collided with a residence or business, causing injuries to the occupants.
Single vehicle accidents with no passengers can be very difficult though. In most cases the obstacle to overcome is the single vehicle operator's own fault or negligence. If a single vehicle accident was mainly caused by the driver's negligence then it is unlikely that our law firm would be able to assist with pursuing a case for damages. However, under the right type of fact patterns and scenarios a single vehicle accident may result in a case of negligence against someone other than the driver. Here are some examples.
Cases Against Non-Vehicle Operators
Defective Tire Cases. Defective tire cases against manufacturers of dangerous and defective tires. If a tire fails prematurely a tire blowout can cause a serious accident and injuries. Many single car accidents are related to defective tires.
Negligent Repair Cases. Unfortunately many people are injured in cases where a negligent repair shop did work on a vehicle that resulted in a serious accident. These kinds of cases can include many different repairs including a vehicle's brakes.
Dram-Shop Cases. In cases where injuries are caused by a single vehicle there are sometimes a link to alcohol. For instance, a single vehicle driven by an over-served driver causing significant injuries to a pedestrian. In a case like that there could be potential liability on the part of the bar or restaurant that served the driver.
Products Liability Cases. Unfortunately some vehicles have catastrophic failures because negligently designed or manufactured parts. Fatal single car accidents have been linked to defective airbags, seatbelts, door latches, roofs and more. These cases require the resources and technical acumen to not only build but also prove.
Experienced Duluth Georgia Car Accident Lawyers
Our firm wishes to express our most sincere condolences to the family and loved ones of the person that passed away as a result of this accident. We report on serious and fatal accidents to bring awareness to the serious nature as well as the danger involved with navigating our Georgia roads and highways. We hope that this information can be used to highlight the need for caution and focus whenever attempting to travel in a car, truck, suv, motorcycle, bicycle or other vehicle in Georgia.
If we can ever be of assistance to anyone with questions related to a serious motor vehicle accident or personal injury matter, please do not hesitate to contact us. We provide free consultations with our experienced team of Georgia injury lawyers and we do so every day. We look forward to speaking to you should the need ever arise.
To set up a meeting, call us today at (866) 592-1296 or contact us online.