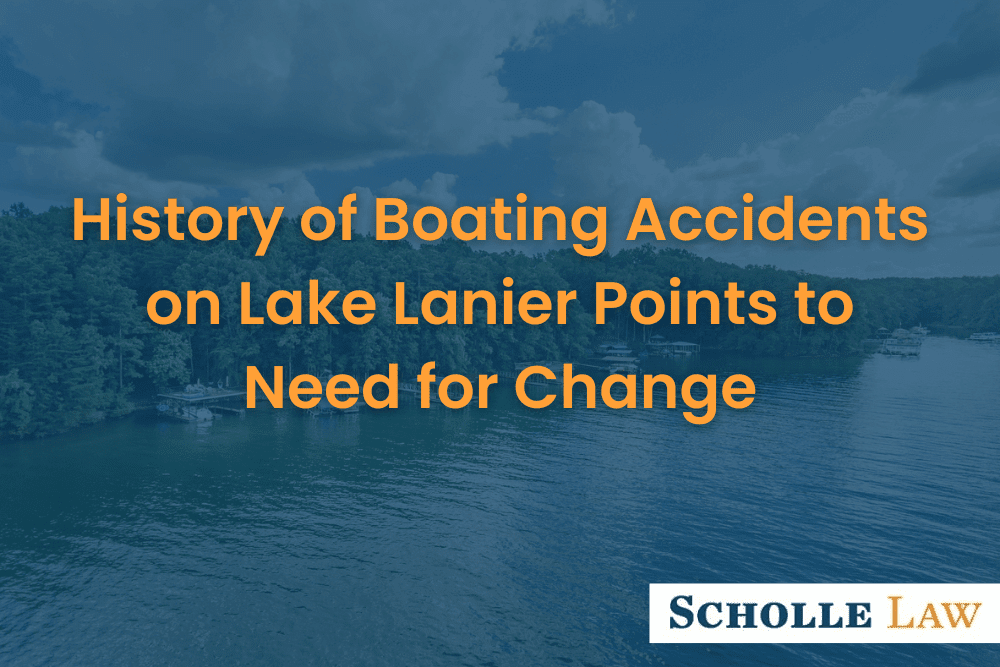 During the summer of 2012, tragic events took place on Lake Lanier, a popular reservoir northeast of Atlanta. The step-son of rapper Usher died after sustaining injuries by a jet ski that ran over him while he was inner tubing.
Another tragedy that took place on Lake Lanier during that same summer ended in the deaths of 2 Gwinnett County brothers. The boys were on a pontoon boat with other family members when another boater struck the pontoon and the boys were killed.
In the latter case, the boater, who is now stripped of the right to boat in Georgia, was eventually charged with homicide by vessel. His trial and verdict ended in an acquittal on that charge. He was instead found guilty on lesser charges.
The charges on which the jury found him guilty included boating under the influence, reckless operation of a vessel and a failure to render aid after hitting the pontoon, which is akin to a hit and run. The penalty for the guilty verdict on these charges was set and the former boater was ordered to serve 30 months in prison. As noted, he is precluded from ever boating again in Georgia and will also perform community service as part of his sentence.
Unfortunately, no amount of punishment will ever replace the 3 young lives tragically cut short in that fateful summer.
Boater safety laws pass in response to Lake Lanier deaths
The tragic summer of 2012 began with 3 fatal accidents involving children on Lake Lanier and 12 total fatalities within Georgia, but it has since resulted in some good.
After their death, 2 laws were enacted thanks to push from grieving moms of Kile Glover and Jake and Griffin Prince. Both the Prince brothers' mom and Kile's mom, who was previously married to Usher, began efforts to reform boating laws in Georgia.
The new boating laws changed several significant things, including lowering the blood alcohol level to .08 — which is the same for operation of a motor vehicle — from the higher and more lenient .10 level.
Other provisions now require kids under the age of 13 to wear life jackets whenever they are on a boat that is in motion, whether by motor, wind or wave. When the boat isn't anchored, life jackets for kids under 13 are now mandatory. Prior to the new more stringent laws, only kids under 10 were required to wear a life jacket.
Lake Lanier: Georgia's most popular—and dangerous—lake
Lake Lanier is a reservoir created by the dammed-up Chattahoochee River. It's located in the middle of northern Georgia, about 50 miles northeast of Atlanta and about 100 miles south of the Tennessee border. The lake was named after poet Sidney Lanier, a Macon resident. Lake Lanier is roughly 38,000 acres (59 square miles), double the size of Georgia's second-largest lake—Lake Oconee (about 19,000 acres).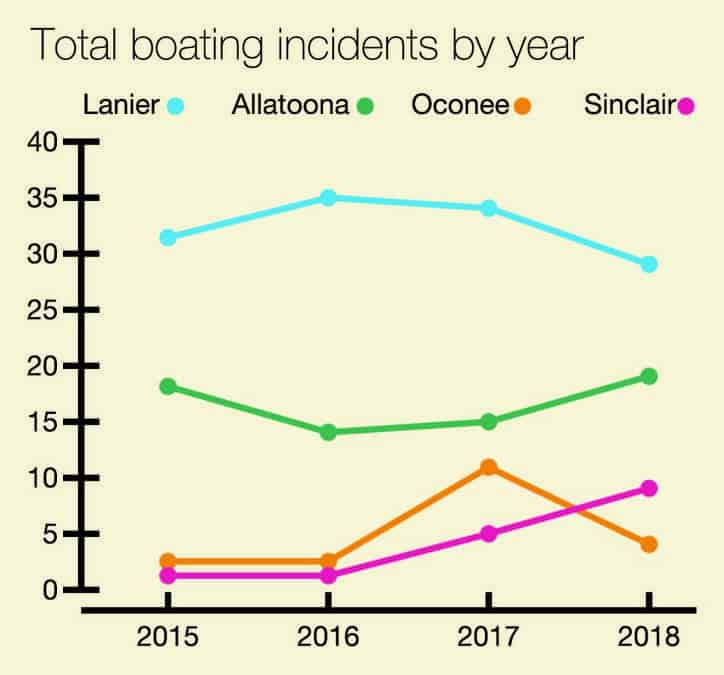 According to the Army Corps of Engineers, Lake Lanier is also Georgia's most popular lake, with about 12 million visitors coming to enjoy the water annually. Lanier's popularity overshadows other Georgia lakes, including Allatoona, Sinclair and Oconee—and unfortunately, Lanier beats these other lakes in accidents, BWI and deaths.
According to the Georgia Department of Natural Resources Law Enforcement Division:
Lake Lanier experienced 57 boating fatalities and 145 drownings between 1999 and 2018. From 2015 to 2018 alone, Lake Lanier saw 43 lake-related deaths.
Georgia's DNR says that from 2015 to 2018, Lanier had 128 boating accidents. In comparison, during that same time span, Lake Allatoona experienced 66 accidents, Sinclair reported 16 and Oconee had 19.
A further 214 incidents of boating under the influence occurred in the same time period on Lake Lanier.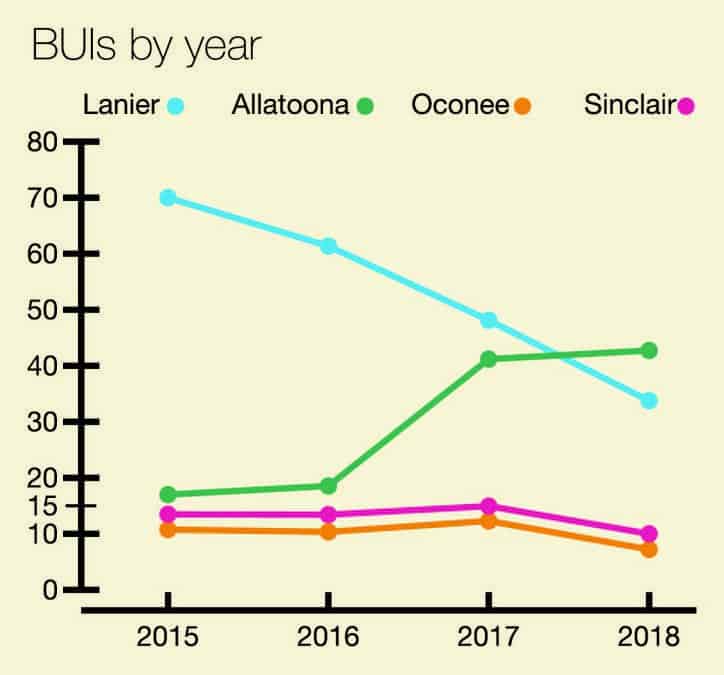 More recently, on May 26, 2020, a 33-foot boat that was adrift in the early morning hours on Lake Lanier was hit from the rear by a 36-foot boat coming to its aid. Authorities reported that 13 people were injured in the collision, but none hospitalized. The offending boat's operator was cited for boating under the influence.
Soon after, a June 2020 crash left a 9-year-old dead and a 13-year-old missing when a motor boat struck a pontoon boat carrying a dozen people.
Three others were injured in that crash and the man responsible for the crash fled the scene, but was later arrested.
Just 2 weeks later, a man was injured and killed in yet another boating accident on the lake. Few details were released beyond the victim's hometown and that he drowned following the crash.
Stories such as these emphasize the importance of further boater safety awareness, education and advocacy not just on Lake Lanier, but on bodies of water across the state of Georgia.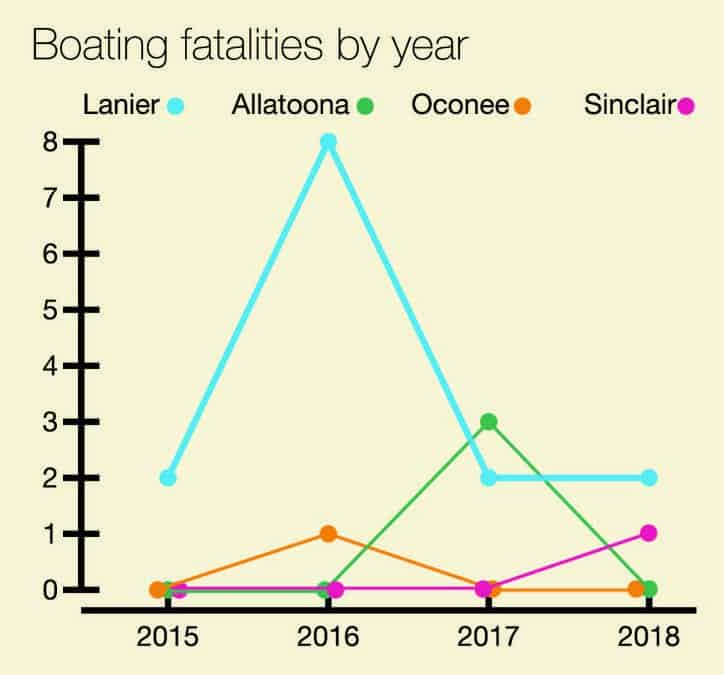 Graphs courtesy of Forsyth County News
Law enforcement officials strongly advise boaters to wear life jackets and practice safe boating habits at all times to help reduce injuries and deaths.
When boating accidents and injuries happen, know that help is available for you and your family. Scholle Law has represented those injured in all types of accidents for over 2 decades. We can evaluate your case and we are here to answer your questions at no charge to you.
Contact
Charles Scholle
for a face-to face conversation about your injury or accident as soon as possible to preserve evidence and ensure the best recovery possible. Your first consultation is
free
.