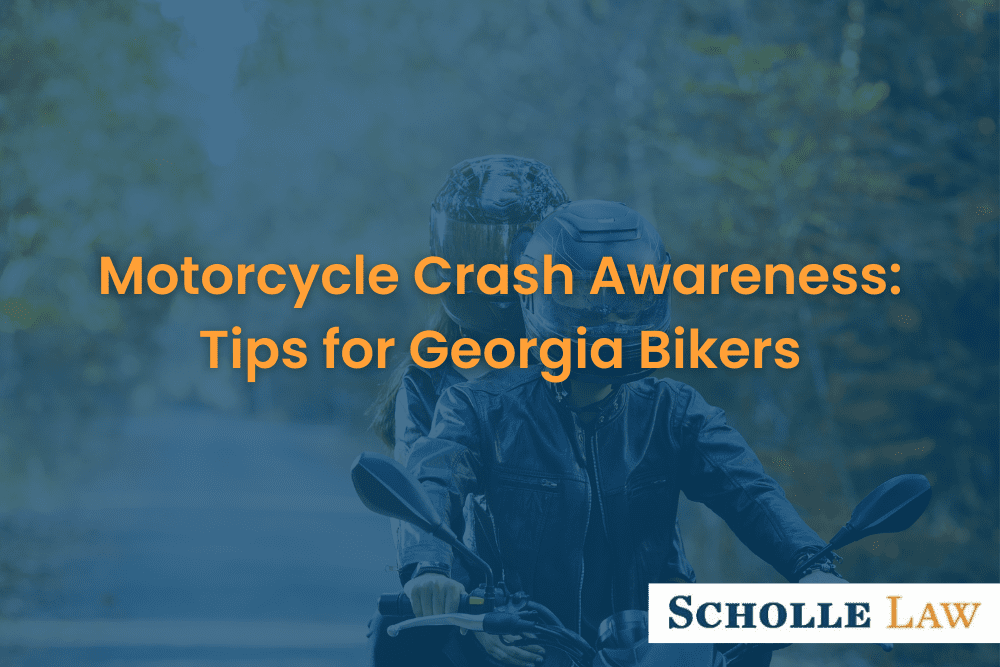 Spring has arrived and as the weather gets increasingly warmer here in Georgia, there will be higher numbers of motorcyclists on our roadways, which in turn means more motorcycle related crashes.  And, according to the Atlanta Journal-Constitution, Atlanta drivers were ranked among the worst in the nation for 2018.  With this, it is more important than ever to maintain your situational awareness on the roads.
Given the relatively small foot-print of a motorcyclist as compared to other vehicles, they can be difficult to see, if not impossible, as they travel unwittingly through the blind spots of other drivers.  Motorcycles can therefore appear suddenly and seemingly out of nowhere resulting in precarious situations.  This certainly serves to underscore the importance of defensive driving for all of us.
Georgia has several laws pertaining to the use of motorcycles.  See O.C.G.A. §§ 40-6-310 through 316.  If you are a motorcyclist, it is important that you know the applicable laws and abide by them.  As explained more fully below, this will serve you well should you find yourself suffering in the aftermath of a motorcycle wreck.  Of primary importance is the requirement that motorcyclists wear a helmet.  See O.C.G.A. § 40-6-315(a).  And, unless your motorcycle is equipped with a windshield, you must also wear protective eye gear.  See O.C.G.A. § 40-6-315(b).
Additionally, motorcyclists are not allowed to travel while carrying anything on their bike that could hinder their ability to keep both hands securely on the handlebars.  See O.C.G.A. § 40-6-311(c).  Similarly, motorcyclists are not allowed to carry any passenger on their bike in such a position that might interfere with the control or operation of the motorcycle or the view of the operator.  See O.C.G.A. § 40-6-311(d).  And, if there is a passenger, the motorcycle must be equipped with footrests.  See O.C.G.A. § 40-6-314(a).
Further, there is a requirement that no one ride on a motorcycle without some sort of footwear.  See O.C.G.A. § 40-6-311(e).  The statute does not specify what sort of footwear is required, only that it be of "some type" in addition to or other than socks.
Again, as motorcyclist, it is important to be mindful of these regulations and do your part to ensure the safe operation of your bike.  If you fail to do so, and find yourself in a wreck with serious injuries, you can count on the other driver's insurance defense attorney attempting to place as much blame on you as possible.  Rest assured, this will be true for both the wreck itself and any injuries that you might suffer.
For instance, let's examine the scenario where you, as a motorcyclist, are in a wreck and the other driver is determined to be the at-fault driver by the police.  Even under these circumstances, if you did anything wrong, or failed to do something that might have minimized or prevented your injuries, the at-fault driver will seek to apportion as much of the fault to you as possible.  Their attorney will argue that but for your failure to undertake all reasonable safety measures, you would not have been injured, or that your injuries would have been far less significant.
Wearing a helmet and other protective gear, to include gloves, protective body wear and proper foot-gear, will go a long way towards preventing these sorts of arguments.  In fact, a recent study by the federal government found that wearing a helmet decreased the risk of injury by 69 percent and deaths by 37 percent.  Other studies have shown that motorcyclists are significantly less likely to be hospitalized if they crash while wearing protective motorcycle jackets and pants along with proper gloves and motorcycle boots.
Finally, if you are injured in a motorcycle crash, it is likely that you will be burdened with expensive medical bills.  If so, you will want to have the other driver's auto insurance cover these expenses in addition to compensating you for your pain and suffering.  However, Georgia only requires that drivers obtain a minimum of $25,000 in liability insurance.  In the context of a motorcycle wreck, the injuries are likely going to be significant requiring extensive treatment.  If the liability policy limits are insufficient to cover these expenses, you will need to turn to your own underinsured auto insurance policy.  For your protection, we strongly advise calling your insurance company to make sure that you have adequate coverage.  If you've already been in an accident and you need help ensuring that you receive all the compensation you deserve, please call the best Duluth personal injury attorney  at 770-717-5100 and let us talk to you about how we can help.