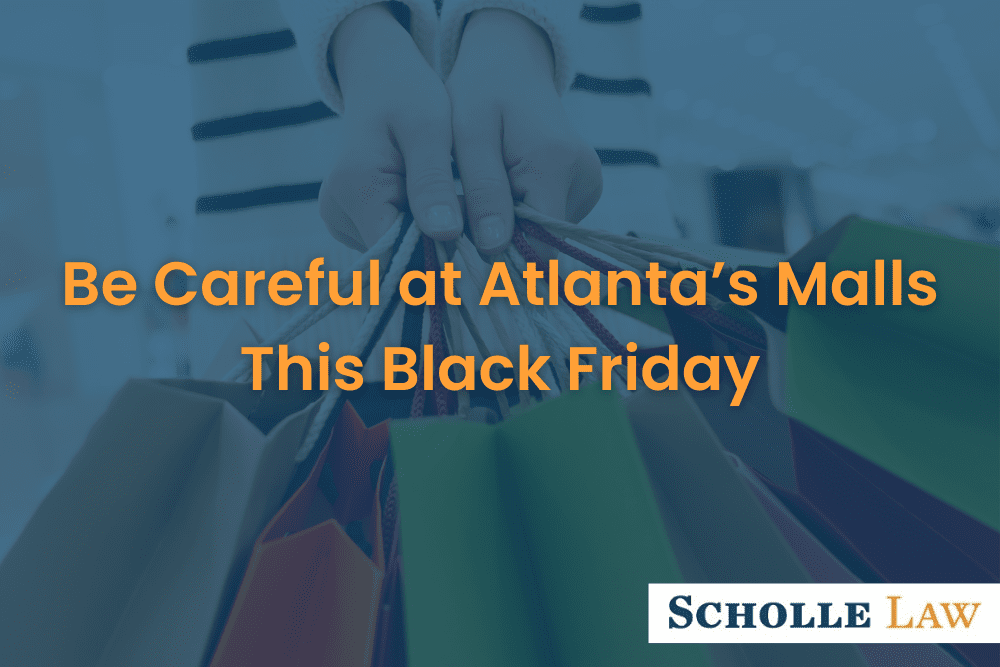 Ever since the 1960s, Black Friday has been an annual holiday tradition that millions of Americans take advantage of to snag deals on holiday gifts. Though Black Friday used to start at midnight the morning after Thanksgiving, many retailers have begun opening their doors well before the clock strikes 12. In fact, some stores start the Black Friday events on Thanksgiving evening!
While online shopping has largely overtaken in-person shopping, many of us still seek the thrill of fighting the crowds and getting their deals without the wait of delivery. The malls in the Atlanta area are hotspots for Black Friday shoppers, meaning hundreds of thousands – if not millions – of shoppers will be flocking to shopping centers for the hottest deals and discounts.
While many of these shoppers will be locals, a large portion will also be out-of-state visitors, here to visit family and friends for the holidays. That fact, combined with the fact that Black Friday starts so early in the morning after a day of heavy eating (and, for some, drinking), means car accidents and other injurious incidents are bound to happen.
If you plan on taking part in Black Friday shopping, it is important you do so as safely as possible. At Scholle Law, we hope you have a fun, relaxing, enjoyable holiday season. Spending time in the hospital for injuries you sustained on Black Friday is sure to put a damper on that. If you are injured this holiday season, we are here to help. Our Atlanta personal injury lawyers have the skills and experience to fight for the compensation you deserve.
Give us a call at (866) 592-1296 or contact us online today for a free, no-obligation consultation. We are here to take your call 24/7 – including holidays.
Black Friday Hours for Malls in Atlanta
Due to the COVID-19 pandemic threatening to surge, the rise of online deals, the global shipping crisis, and myriad other factors, Black Friday may look much different in 2021 than you remember from years past. The good news is, many Atlanta malls and shopping centers will be opening early for the shopping holiday.
If you are trying to plan out your Black Friday to hit all the best stores, here are the special hours for some of the most popular malls in the Atlanta area:
MALL OF GEORGIA: 6 a.m. to 9 p.m.
CUMBERLAND MALL: 9 a.m. to 9 p.m.
LENOX SQUARE MALL: 6 a.m. to 9 p.m.
PERIMETER MALL: 9 a.m. to 9 p.m.
PHIPPS PLAZA: 8 a.m. to 9 p.m.
TOWN CENTER AT COBB: 7 a.m. to 9 p.m.
TANGER OUTLETS (LOCUST GROVE, COMMERCE AND DAWSONVILLE): 6 a.m. to 9 p.m.
GREENBRIAR MALL: 10 a.m. to 8 p.m., with some stores opening earlier
How to Stay Safe on Black Friday
While most of Atlanta's most popular malls will not open especially early on Black Friday, may other retailers will. Whether you are waiting until the malls are open or headed to a store that opens at midnight, it is crucial you take real steps to remain safe on your shopping excursion.
1. Stay with Your Group
Shopping alone on Black Friday makes you an easier target for thieves and other criminals than shoppers in groups. If you are going out, make sure you bring at least one other adult with you. Having multiple pairs of eyes watching out for your bags of purchases, purses, and other valuables makes it much less likely to be targeted by would-be robbers.
2. Keep Your Car Safe
Criminals love Black Friday. Why? Because they know many of us will go shopping, fill our arms with bags, then deposit those bags in our cars before going back for more. There are countless accounts of Black Friday shoppers coming back from their second or third trip into the mall or store, only to discover their car windows shattered and their items stolen. Make sure your car is parked in a well-lit area and store any purchases in your trunk. Better yet, have someone stay with the car while you shop, if possible.
3. Be Wary of Crowds
There are thousands of videos online of crowds stampeding into a store as it opens for Black Friday, often resulting in patrons being trampled or otherwise injured. With the threat of COVID-19 and a potentially severe flu season this year, being overrun by crowds is not your only concern. Do your best to keep space between you and other shoppers. It may also be a good idea to wear a mask while you shop, especially considering the expected danger of this year's influenza strain.
4. Avoid Fights with Other Shoppers
You may go into Black Friday shopping with a clear idea of what you are getting, where you are getting it, and how long you plan to be out. But plans are always perfect until they are executed. By the time you get to the store, being in the crowd may cause you to do things you may not otherwise. If you feel your blood pressure rising and your adrenaline pumping as the items you want start to disappear, take a step back. Fighting with other shoppers over that new TV is not worth the injuries (and possible criminal charges) you may face.
5. Consider Shopping Online
Driving to stores and wading through crowds for the perfect deal is a decades-long tradition you may be eager to take part in. Yet with the growing dangers of going out for Black Friday, including car accidents, robberies, crowd injuries, and more, your best option may just be to shop online. Most major retailers have the same deals online that they have in their stores – and may even have a wider selection. If you do feel the need to shop in person, consider waiting until Small Business Saturday and support the local retailers in your area.
Get the Help You Need if You Are Injured this Holiday Season
The holidays are a magical time for many of us, whether we celebrate Christmas, Hanukkah, Kwanzaa, or any other winter holidays – or simply enjoy the time with family and friends that the holidays provide. Unfortunately, injuries are all too common during this time of year. If you or a loved one is injured due to someone else's actions or negligence, our attorneys are here to help.
At Scholle Law, we understand how a serious injury can derail your entire life. Our Duluth personal injury attorneys take pride in helping our clients get the compensation they deserve – and the peace of mind that comes with knowing that you do not have to face this situation alone, especially during the holidays.
Give us a call at (866) 592-1296 or contact us online today for a free, no-obligation consultation. We are here to take your call 24/7 – including holidays.