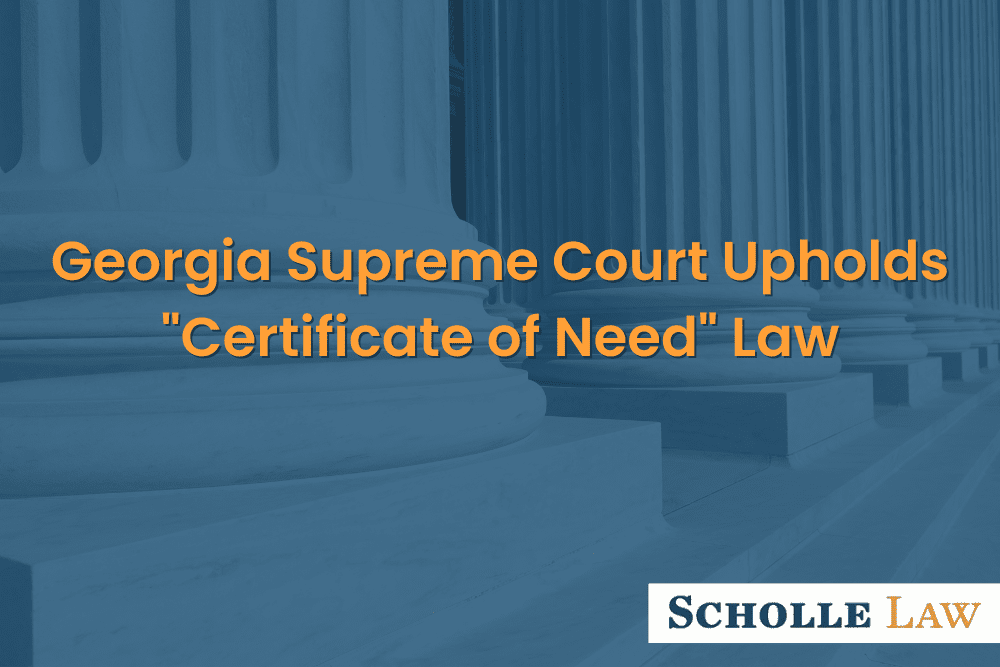 At Scholle Law, we keep apprised of all new developments in Georgia law and our highest court's cases and decisions. Because we are metro Atlanta injury lawyers, we pay particular attention to those cases that might impact access to healthcare services after an injury or accident. From time to time, we like to bring our readers information about the decisions of our courts.
The Georgia Supreme Court has recently issued its opinion in a case involving a Georgia health facilities law. Some have said this law limits free markets, but others see it as an important regulation of health care facilities planning. In the case, the Georgia Supreme Court upheld the law which was challenged by a Cartersville, Georgia surgical center that sought to add an operating room. The surgical center intended to add the operating room to expand their contracts with physicians who might use the center in conjunction with their own medical practices.
Official Code of Georgia section 31-6-40 (a) (7) (C) provides that new health services facilities (those less than one year old) must apply for, and obtain, a Certificate of Need (CON) before moving forward with expansion of their facilities. The facility that brought the lawsuit did not believe it was governed by this law and also sought to have it declared unconstitutional. They argued that the law violates the constitution violating two basic areas of Georgia's Constitution. First, a clause of the Georgia Constitution that prohibits what are called "Anti-Competitive Contracts;" and second, the due process clause of United States Constitution. The Georgia Supreme Court upheld the Certificate of Need provision and declared that it is constitutional.
The Court found that the Anti-Competitive provisions do not impede a healthcare facility's ability to compete in the marketplace. The Court noted that the challenged law is narrow in scope and does not encourage monopolies among providers. Rather, the law provides that newer facilities must secure the Certificate of Need prior to offering new services and that there is a legitimate policy reason for this requirement.
The facility also claimed that the law violated what are called substantive due process rights under the United States Constitution's Fourteenth Amendment. The facilities argued that the requirement that they seek the CON prior to adding new services essentially restricts competition. Under the Court's view this challenge must be assessed under the rational relation test … in other words, the law is only required to have a reasonable relation to a proper legislative purpose.
The Court concluded that the law's purpose is focused on access to quality health care. It acknowledged that the health care sector is unusual in that it is highly regulated under federal law and also Georgia constitutional provisions, which limits the Georgia General Assembly's options with regard to related lawmaking. The law in question they said is intended to make certain that facilities around the state are developed in an orderly way and that all residents have health care services that are available to them. The law ensures that health care services are not duplicated in a particular geographical area and are serving the needs of different areas and populations around the state. Other states have similar legislative schemes for the same reason.
Scholle Law
appreciates the opportunity to share information with our readers about Georgia law and Georgia courts. We are personal injury lawyers with a commitment to our community's health and safety. We are here to help if you have been injured or harmed in an accident.