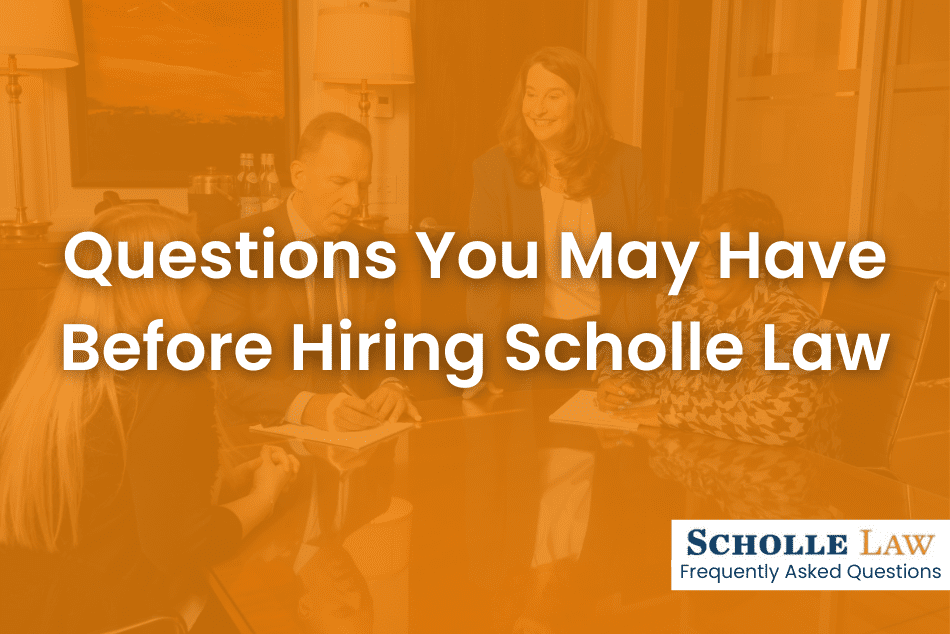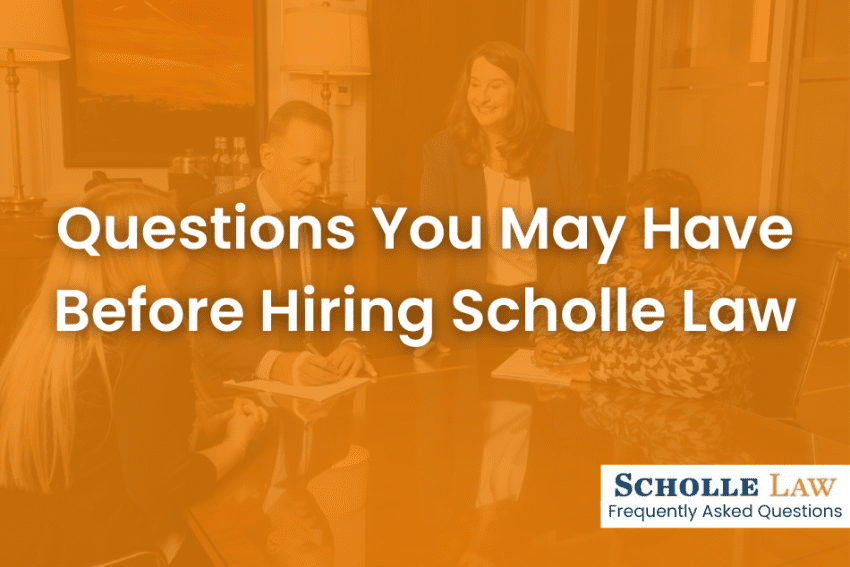 Scholle Law knows that when you or someone you love has been injured or hurt in an accident, retaining counsel is a very important decision. You need to feel comfortable with the law firm you retain. Our experience and knowledge tell us that families need to time to make this decision and that we can assure you about our approach and our record of success. We are happy to answer all the questions you might have. Here are some questions and answers that we hope you find helpful to start this process. Please feel free to contact us for more information.
---
1. What are your charges for an initial consultation?
We do not charge for initial consultations. Moreover, we do not charge attorney's fees for our investigation of your case after an initial consultation either.
---
2. What will you charge to handle my case?
Our fees vary from case to case, and depend upon numerous factors such as what type of case is involved, the facts of that case, how costly or difficult that case will be to litigate, and the law applicable to the situation.
---
3. Do you offer "contingency" fees? How do contingency fees work?
Yes. We work almost exclusively under contingency fee arrangements for our injury and wrongful death cases. Under a contingency fee arrangement, the client is not obligated to pay any attorney's fees unless and until money damages are recovered as a result of a settlement, verdict, judgment or other resolution. Our written agreement would make clear what percentage our firm would be paid in attorney's fees. If the case is not meritorious or if no recovery is obtained, then no attorney fees shall be owed to our firm.
---
4. What are the advantages of a contingency fee arrangement?
Many times, defendants in civil cases are large corporations or institutions which have insurance policies that pay for the defense of civil claims. Neither these defendants nor their insurance companies want to pay judgments or settlements, and they can afford very good attorneys to vigorously defend their interests, making lawsuits lengthy and difficult for the plaintiff. Because of their injuries and financial losses, many victims of negligence cannot afford to pay an attorneys thousands of dollars to pursue costly lawsuits, especially those which might require experts and which years of protracted, contentious litigation. Contingent fee arrangements allow plaintiffs to pursue justice in their cases without going bankrupt in the process. If the case is not meritorious, the client owes no attorney fees.
---
5. In what areas of law do you specialize?
We practice exclusively in the areas of personal injury, wrongful death and probate. We only represent plaintiffs and petitioners in our practice areas. We have never and will never represent or defend insurance companies. Our firm does not practice in any other areas of the law. In Atlanta and throughout Georgia, we routinely represent serious injury victims and families in wrongful death matters arising from automobile accidents, tractor trailer wrecks, drunk driving accidents, commercial vehicles accidents, vicious animal attacks, inadequate security, dangerous drugs or medical devices, defective products, and premises liability. We have developed our practice for nearly two decades in these legal areas by focusing on these types of cases.
---
6. How do I know if I have a meritorious case?
Only a judge or jury can ultimately determine whether or not your case is meritorious. Not all accidents result in successful civil cases, and sometimes an accident occurs without blameworthy conduct warranting a legal claim or litigation. Many times, there is a clear legal violation of the law but insufficient damages to bring legal action. Other times, there can be serious damages but the potential defendant enjoys an immunity, statutory protection or other legal defense.
Accordingly, the question of whether an injured victim has a meritorious case is determined based upon the facts and evidence of the event which caused the injury and the statutes and other laws applicable to that factual scenario. Each case is dependent upon the particular facts and how the law applies to those facts. Many times the question of whether a case should be pursued is a simple one and other times it is a very complex question. Part of our role is to gather the facts from the client and analyze those facts in the context of our knowledge and experience and the prevailing legal environment. We perform this analysis as part of our services, and we do not charge any attorney's fees for this initial evaluation.
---
7. Where do you practice within Georgia?
Our law firm is able to represent clients within every county or city in Georgia. Our firm has convenient offices throughout the metro Atlanta area. We can meet with you in one of those offices, our main office in Gwinnett County or at a location convenient to you.
---
8. Do you handle cases outside of Georgia?
Yes. Our we are able to represent clients in surrounding states in Southeastern United States. From time to time, we can handle a case in another state in the US, depending on the circumstances.
---
9. Does your law firm accept cases from individuals harmed in Georgia, but living outside of Georgia?
Yes. We are Georgia personal injury lawyers and the residence location of our clients are often outside the state. In fact, there have been cases we have handled that are from clients across the country. This can occur when a person is injured or a family member is fatally injured in Georgia, but resides in a different location. There are cases in which we travel to meet with a client outside of Georgia. We can come to you if you would like to discuss a case or matter that occurred in Georgia.
---
10. If I cannot come to your office, will you travel and meet me?
Yes. Ideally, we would prefer to meet with you face-to-face at our offices where we have the facilities and personnel to analyze your case fully at an initial consultation. However, if travel is not possible because of one's serious injuries or other infirmities, then we will travel to your location to meet with you.
---
11. Do you ever represent insurance companies?
No. We have never and will never represent any insurance company.
---
12. Do you handle other matters such as criminal cases, divorces, child custody disputes, adoption, immigration or bankruptcies?
No. Our firm is not a general practice firm. We limit our practice to personal injury, wrongful death and traumatic brain damage cases so that we can focus intensely on only those practice areas.
---
13. If I hire Scholle Law, who will be handling my case?
Attorney Charles Scholle or one of our fine associates will handle your case. Our firm has excellent lawyers, paralegals and investigators who will conduct some of the routine data collection and investigation. One of our lawyers, and often Charles Scholle, will evaluate your case. Your lawyer will communicate with you on all substantive matters in your case.
---
14. Are there time limits within which I must file a lawsuit against the party that injured me?
Yes. There time limits called "statutes of limitation" and vary from state to state depending upon the type of cases.
---
15. Will my case be settled out of court or will a lawsuit be filed?
Statistically, the vast majority of cases are settled out of court. Sometimes, a case is only settled after a formal lawsuit is filed. We work with you to determine what the best means to pursue your case, whether through litigation or settlement. We typically make an effort to settle the case prior to filing suit. However, the determination as to whether and when to resolve a case is a decision for the client who can, of course, seek our recommendation.
---
16. Who makes substantive decisions about accepting a settlement or trying my case?
The client always makes the decision concerning accepting a settlement or trying a case. We offer our advice and counsel on these matters, but the client makes the final determination.
---
17. How long will it take to resolve my case?
The time required to resolve a case varies. In some cases, it could be a matter of weeks or months. In other cases, resolution could take much longer, even years, especially if the case is litigated. Several factors influence the case resolution process, including how the type of case, the complexity of the case, the aggressiveness of the defense, the county of venue, the judge, the caseload of the court and other factors. Sometimes, the case takes a long time because the client has high expectations as to his or her damages. Most of the factors which effect how long it will take are largely out of the control of the plaintiff or attorneys representing the plaintiff. We can typically advise the client of these factors while the case is pending.
---
18. What categories of damages can I attempt to recover in my Georgia injury case?
There are two categories of compensatory damages, special damages and general damages.
Special damages are those that can be proved with actual, quantifiable, monetary amounts such as a lost earnings or income, medical expenses (ie. ambulance bill, hospital/doctor bills, physical therapy, home nursing care or rehab services, etc.), charges for the purchase of prosthetic devices or other medical products, charges for psychological counseling, and/or the costs to hire someone to perform housekeeping services which the injured party cannot perform. The plaintiff can seek to recover past special damages as well as those which she reasonably believes will be incurred in the future. "Special" damages can sometimes be referred to as "economic" damages in Georgia.
General damages are for items which cannot be quantified in monetary terms, including:
pain and suffering;
anguish, mental suffering, anxiety and inconvenience;
scarring, disfigurement or physical deformity;
physical disability;
loss of ability to labor or earn a living;
loss of consortium.
For general damages, the amount of recovery is subjective and is based on the "enlightened conscience of impartial jurors." Like special damages, general damages can be recovered for the past and the future.