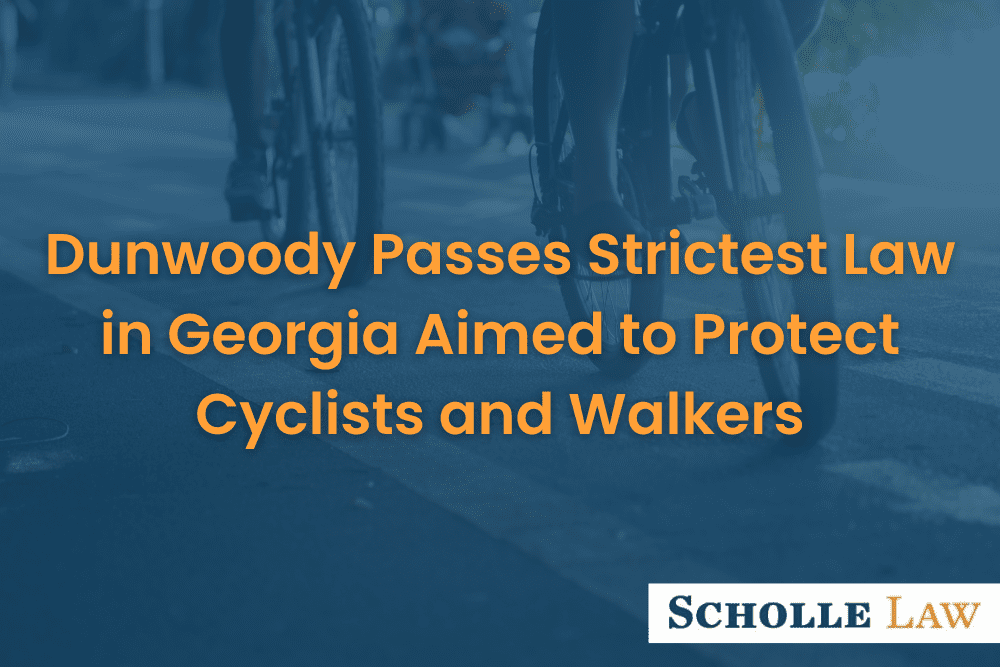 A new ordinance went into effect May 1, 2020 in the city of Dunwoody, Georgia that is designed to make streets safer for pedestrians and cyclists. Known as "Vulnerable Road User Ordinance" (or VRU Ordinance), this new rule aims to protect anyone using the road but not in a vehicle, including pedestrians, joggers, bicyclists, motorcyclists, skateboarders, and construction workers — plus anyone in a wheelchair, or on a scooter or moped.
This new ordinance is stricter than current state law as it requires drivers to stop for any VRUs at crosswalks, keep a safe distance behind VRUs when it's not safe to pass, and when it is safe to pass always allow at least 3 feet of distance. This means that a vehicle can cross over a double yellow line to ensure the mandatory distance of 3 feet between themselves and any VRU, when it is safe to do so.
Currently, Georgia state law is a bit more ambiguous on the distance, stating that a vehicle should give "three feet when feasible" when passing a VRU.
In Dunwoody, there is no longer any question. You must leave 3 feet between your vehicle and any VRU when passing. 
The hope in putting this new VRU Ordinance into effect is to encourage sharing the road and to try to put a stop to distracted driving once and for all.
This new ordinance also prohibits unsafe turns in front of VRUs and any actions that intimidate or harass vulnerable road users. This includes yelling at them, throwing things at them, or making any aggressive maneuverings at them with the vehicle.
For many, this new ordinance couldn't come at a better time.
"More than ever, people are finding themselves going outside to exercise and breathe in some fresh air with so many forced to shelter at home due to the ongoing COVID-19 pandemic," said Charles Scholle, founder of Scholle Law and an award-winning Georgia personal injury lawyer. "Because of this, it is so important to create a physical and social setup to support safety and accessibility for everyone on our roadways.
Several other states and cities around the country already have their own vulnerable road user laws, but according to Dunwoody City Councilman Tom Lambert, Dunwoody is the first city in Georgia, as well as in the surrounding states, to pass such a law.
This new ordinance also lists several defenses for VRUs, such as making them responsible for wearing bright or reflective clothing at night when on the roadway and riding as near to the ride side of the right through-lane as is safe.
Penalties for not following this new ordinance include up to 6 months in jail and up to a $1,000 fine.  However, these penalties may be reduced or waived if the driver completes a driver safety and pedestrian awareness class.
Here's a video from the City of Dunwoody explaining the new ordinance: