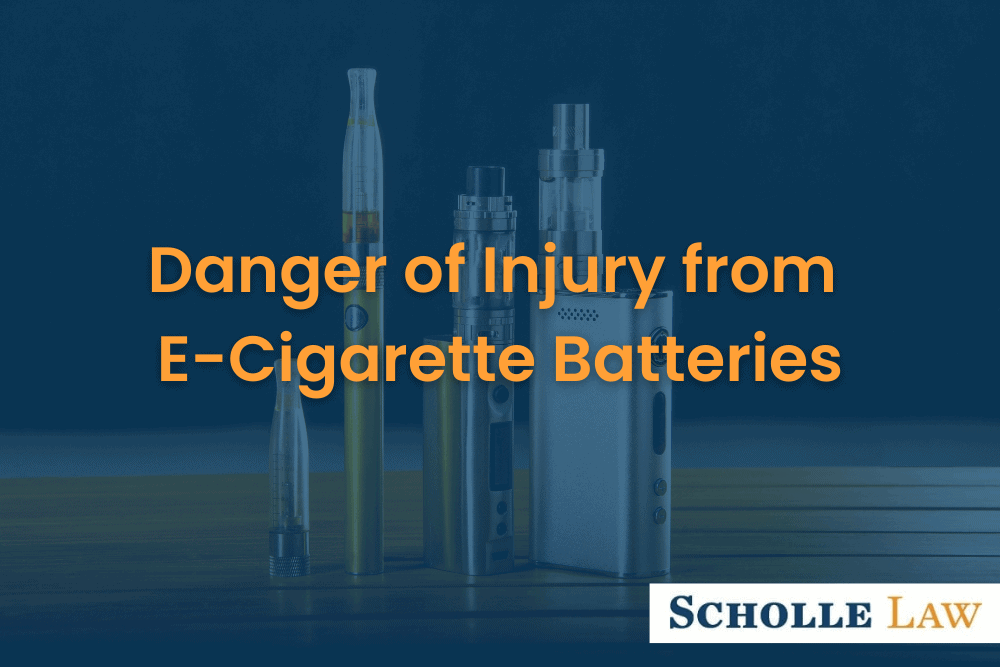 Earlier this year, we posted about many spontaneous hover board fires that were causing serious issues, including house fires, all due to lithium-ion batteries. These spontaneous fire events were occurring when the batteries would overheat, often when the hover board was not in use. Similarly, the Samsung Galaxy 7 phone is banned on all United States airlines due to the fact that they can spontaneously combust and cause property damage or injury. If you carry such a phone, you cannot go through security or fly with one of these and you will be asked to discard it.
Now Huffington Post reports that ubiquitous e-cigarette batteries are the focus of concern. About 100 Americans have been hurt by exploding e-cigarettes. The cause is the lithium batteries used in these products. Often the injuries have occurred when the e-cigarette is in the pocket of the user, its batteries overheat and then explode with no warning. An explosion through clothing can cause damaging and disfiguring burns and should be of concern to anyone using these vapor alternatives to smoking. All it takes is for the batteries to overheat is to come in contact with something metal or when one battery comes in contact with another battery. In many cases that have been caught on camera, the batteries begin to smoke and then can spewed sparks, after which there is an explosion. These explosions can hurt the user and bystanders.
Neither e-cigarettes nor their batteries have been recalled. These products are regulated by the Food and Drug Administration (FDA), the agency that would be responsible for recalling the batteries or the e-cigarettes. The FDA issued a regulation this past summer on all tobacco products, including e-cigarettes. Senator Chuck Schumer (D-N.Y.) has been calling for a recall of these batteries for some time now. He reiterated his concern after a serious incident in the past few days in which another battery exploding within the pocket of the user. Although the manufacturers say these batteries are safe and only when stored improperly are prone to overheat, the concern remains that more people will be hurt by these sudden events.
Fox 5 reports of lawsuits related to debilitating burn injuries suffered by local residents. Some of those harmed have already brought lawsuits against e-cigarette and battery makers for serious burns and injuries from overheating batteries. A Bremen, Georgia man filed an action against an e-cigarette maker, after one of these devices exploded in his pants pocket. He suffered serious burns. This man said his pants burned into his leg and became enflamed after he stored the e-cigarette device in his pocket. He is not able to play with his children as he must go through months of rehabilitation for his injuries. He wants others to know about this dangerous issue so that more people are not hurt by something they use without a thought of being injured or burned.
Injuries from e-cigarette batteries or other consumer devices can be devastating to a family and their income. When defective products remain on the market and continue to harm consumers, action needs to be taken to remove them from use or provide warnings to prevent injury.
Scholle Law provides the support needed by those injured by defective products and their families. If you have been harmed by a hover board, e-cigarettes or the Samsung phone or any other consumer product, contact our law offices for a free evaluation of your situation. We help those hurt due to the fault of others and we can help you. We will tenaciously and effectively seek monetary recovery for you so that you can go on with your life and provide for your family. We take the burden from those injured or harmed and we will help you in any way we can with medical support, legal representation and peace of mind that your case is being handled by highly qualified lawyers and legal professionals.