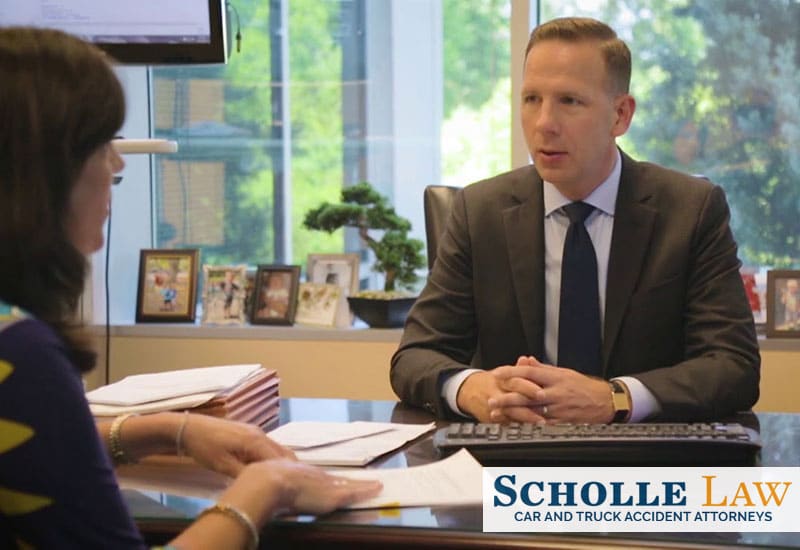 Find out how our team of skilled attorneys, paralegals and support staff help you secure success
When it comes to successful law firms, there's truth in the saying "it takes a village." While the experience, knowledge and expertise of the attorney handling your case is hugely important, there is an entire team of people who support the lawyer handling your case. Some of these support staff are behind the scenes, but their role in your case is vital.
For over 20 years, the team at Scholle Law has recovered millions of dollars for our clients in personal injury verdicts and settlements across the state of Georgia, including traumatic brain injury, wrongful death, car crashes, and truck accidents. Our legal professionals and staff have an unwavering commitment to success in all our cases. We are fierce advocates for accident victims and their families.
While we can't speak to how other law firms or lawyers would handle your case, we can share how our team takes on the typical case. Continue reading to meet the team who will handle your case and get a general overview of the process.
The first contact
We all know the frustration of calling businesses just to be placed directly on hold — not to mention the irritation of having to navigate through an automated phone service. No one enjoys this.
At Scholle Law, our goal is to answer each inquiry personally — no robots, but rather real people who will listen to you and prepare the next steps. To reach us, potential clients can call our office. (If you're not in the Atlanta area, we offer a toll-free number: 866-972-5287.) You can also visit our website anytime to learn about our services, fill out a contact form or chat with us directly.
In addition to our website, we invite you to learn more about our founding attorney Charles Scholle by reviewing his profile listed on the State Bar of Georgia and Super Lawyers websites.
Our knowledgeable and helpful attorneys are standing by during standard business hours; however, we are available 24/7. After-hours calls are answered by well-trained staff members who are able to gather the information needed to pass along to the attorney and help injured callers get the help they need as quickly as possible.
The intake process
Intake call
People like honesty, personal interaction and results. Callers are usually confused, scared and in pain. During an initial call, a member of our Intake Department will conduct a brief but thorough conversation, asking effective questions in order to determine liability and damages. Their job is to establish a rapport with potential clients immediately and put them at ease during their difficult time.
Members of our Intake Department keep an up-to-date list of attorneys our firm associates with, and they have the ability to redirect callers if their legal need is outside the focus of our practice. They will review the facts of your claim in a friendly way, making you feel heard and understood.
Once the basic facts of your case have been gathered, the intake specialist will schedule an appointment for you to meet with one of our attorneys who will fully review your claim. Before the appointment, they will help obtain police reports and prepare the various documents that will be required throughout your case. 
Initial attorney consultation
During the initial meeting with an attorney, you will have the ability to meet with a knowledgeable lawyer face-to-face who will take notes on pertinent information and make copies of documents that will be shared with other staff as they become part of your legal team. The attorney will also scan your case documents and set up all insurance claims, then brief other team members by communicating case specifics and ensure all potential new clients are given prompt attention.
The efficiency and genuine care provided by our intake staff helps each client realize that Scholle Law is the best choice to represent them in their personal injury case. The communication between the attorney, intake specialist, legal assistant and paralegal is teamwork at its finest.
But it all begins with the intake experience since this is what the client will remember.
Our legal assistants
Like intake staff, the job of a legal assistant is to provide prompt and courteous service for every caller and visitor. They provide compassion and determination while working toward the goal of maximum compensation for the wrongful actions of others.
At Scholle Law, our legal assistants are able to direct calls to the right person with efficiency, help document the case, send routine letters of representation to insurance carriers, and help the paralegals with data entry and other office tasks.
By greeting callers and visitors with warmth and concern, the legal assistant makes our guests feel welcome and comfortable, and helps create a positive team environment between the client and each team member. Our legal assistants make a lasting impression on every client and visitor — including other lawyers, doctors and other providers, witnesses, court reporters and insurance adjusters — by providing prompt attention.
Our paralegals
The important role of a paralegal is to give each case the attention and organization needed to bring effective resolution as quickly as possible. Because paralegals frequently work on all aspects of a case, they are able to communicate with the client, insurance adjuster, medical providers and attorney. The paralegal also provides critical support to the attorney.
Since the paralegal usually joins the team after the initial meeting between the client and attorney, they have likely not had the opportunity to meet with the client. For this reason, here at Scholle Law, our paralegals make a point of contacting each new client within a few days of the initial meeting to introduce themselves.
Your paralegal will continue to contact you periodically to follow-up on your treatment, providers, and progress — noting all information in your file. They perform critical functions throughout each case such as composing routine correspondence, receiving mail regarding the cases assigned to their care, and discussing incoming mail with the attorney.
It's normal for the client to have questions throughout the case. Once the paralegal and client have spoken a few times and built a rapport, the paralegal usually becomes the client's go-to-person. They give the client case updates and send them copies of documents. If necessary, the paralegal is there to answer a variety of tough questions you may have. If there are any questions they cannot answer, they immediately consult the attorney in charge of the case, and one or the other will contact the client with the answer.
As the case progresses, the paralegal communicates with Medicare, Medicaid or health insurance (whichever health provider has a right to reimbursement from any settlement proceeds) by documenting the file accordingly. As a doctor or health provider completes their treatment plan, the client will need to notify the paralegal, who then sends a request for medical records and billing.
As the medical records and bills arrive, the paralegal reviews each record, summarizing the medical records as well as prior and subsequent records that may influence the client's case. As records and bills are received, the paralegal begins drafting a demand for the attorney. The attorney will submit the demand to the insurance carrier that insured the at-fault driver (in the case of an auto accident). The demand letter is a summary of the liability and damages of the case, and this letter must accurately and persuasively tell the client's story.
In addition, paralegals calendar all case items and reminders, as well as coordinate and schedule depositions and mediations. They revise draft letters and documents after the attorney has reviewed them. They take phone calls regarding subrogation and keep the negotiation process updated at each stage. The paralegal performs a variety of tasks as assigned by the attorney, including the drafting of basic pleadings and discovery, which give the attorneys a starting point.
The paralegal is, at all times, up-to-date with case deadlines and events, and helps prepare deposition, hearing, mediation and trial binders for the attorney. Once a settlement is reached, either by agreement or trial, the paralegal will request reductions of amounts owed to subrogation claims and provider balances.
When the settlement funds arrive, the paralegal prepares the disbursement documents and ensures sure the check is properly endorsed and deposited. They make sure the client is satisfied that the law firm has sufficiently stood up for, fought for, and given voice and value to his or her story.
Our attorneys
Our staff attorneys provide each client with an intelligent, compassionate and determined advocate who will effectively maximize reimbursement of the value of our client's harm, and the wrong that caused it. By doing this, each prospective client will know Scholle Law promises to be their best choice in hiring a lawyer.
Our attorneys evaluate each case, considering the pertinent facts of liability, damages and coverage. They explain all documents, answer any questions the client may have, and wisely guide the development of the claim through investigation of liability and documentation of damages.
Unless they are attending hearings, depositions or trial, our attorneys are in the office every day. They monitor every case and delegate tasks to the paralegal and other support staff. Once the client has been released by the treating providers, the attorney will supervise the demand process, ensuring the demand is sent as soon as possible once medical records and billing have been received.
The attorney will also effectively "posture" the case and recommend the best course of action. They effectively and aggressively negotiate with adjusters. In cases where negotiation reaches a roadblock, they will file suit and prepare the client for the litigation process. The attorney oversees pleadings and discovery for lawsuits, deposing witnesses in a way that sets up a high degree of leverage, or a verdict. At the end of the case, the attorney will oversee the settlement and disbursement process.
At Scholle Law, our attorneys confront difficult questions and issues head-on with confidence and years of experience as trial lawyers. In addition, they periodically continue their education by attending classes and seminars to stay up-to-date on changes in the law, as well as hone their ability to take a case to trial and win.
Our skilled legal team is ready to work for you
Here at Scholle Law, we are proud of the level of professionalism of each of our staff members. From first contact and intake to final settlement, our entire team focuses our collective knowledge, experience and skill to work together for the benefit of each client.
It's always a team effort at Scholle Law!
Atlanta Car Accident Lawyer, Atlanta Wrongful Death Lawyer, Atlanta Truck Accident Lawyer