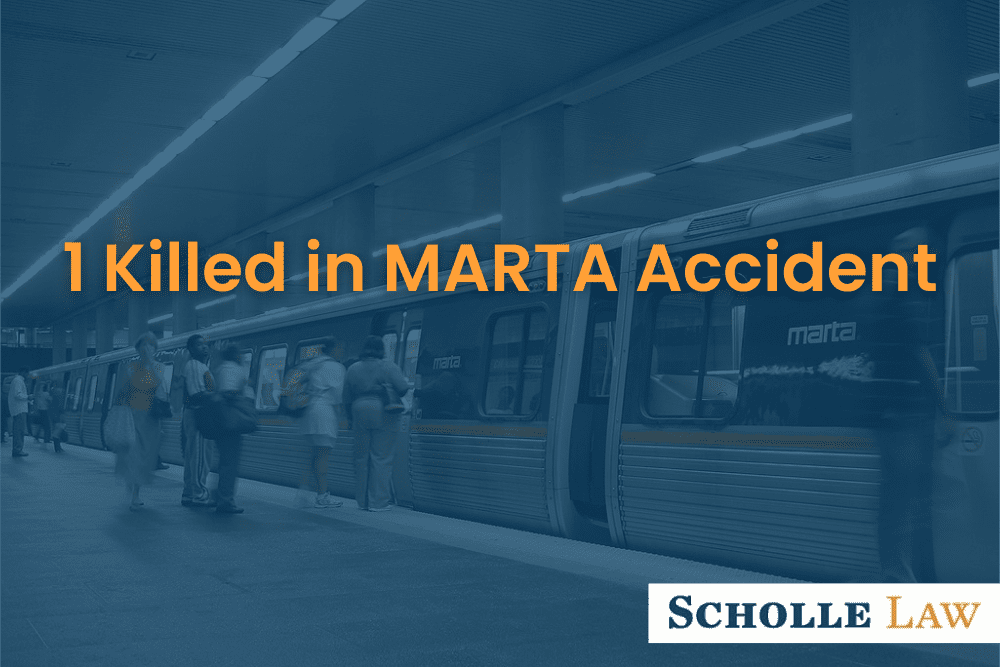 A MARTA accident in Clayton County has claimed the life of one person, a pedestrian. Atlanta news reports the accident occurred on Monday evening, March 22, 2021. Clayton County police arrived at the accident scene to investigate the accident. According to a MARTA spokesperson, five persons were traveling on the MARTA bus at the time of the accident. None of them reported injuries as a result of the collision.
The pedestrian was struck by the MARTA bus near the intersection of Garden Walk Boulevard and Interstate 85. The incident occurred around 10 p.m. Monday. While official results of the accident's investigation are not available at the time of this post, several news stories covering the MARTA accident quote bus passengers as indicating that the driver was not speeding.
Bringing Attention to the Dangers of Road Travel
Our office would like to express our condolences to the loved ones of the victim that was killed in this accident. Our law firm blogs about recent Atlanta and Georgia accidents for the purpose of drawing attention to the dangers associated with traveling in a car, truck, bike or as a pedestrian. Serious accidents happen every day in the communities that we serve and we hope that we help make them safer by providing helpful safety information.
Statistics
Traveling as a pedestrian is dangerous no matter what road you travel on. During the 10-year time span from 2009 to 2018, pedestrian fatalities increased by 53%, from 4,109 in 2009 to 6,283 deaths in 2018. Those numbers are published by the Governor's Highway Safety Association and they are national numbers.
Highlighted States
The same organization reports that the 5 states with the most annual pedestrian fatalities for 2019 were California, Florida, Texas, New York and Georgia. Georgia had over 115 fatalities in 2019 just in the period of January to June. For that same period of time the 5 states with the fewest reported fatalities were Vermont, South Dakota, Rhode Island, Idaho and New Hampshire. None of those states had more than 4 pedestrian fatalities during that period of time.
Highways, Busy Thoroughfares and Streets
More than half of all pedestrian fatalities from 2018 occurred on main roads that carry local and regional traffic through communities. Almost one quarter of the pedestrian fatalities from the same year occurred on roads associated with residential areas and downtown traffic. Sixteen percent of the pedestrian fatalities occurred on freeways and interstates. The study advised that some of those fatalities included stranded motorists dealing with mechanical issues or accidents.
Additional Considerations
It is obvious that populations and census data play a role in these statistics. Additionally, other factors that are analyzed when discussing the issue of pedestrian related accidents include lighting (dark or day ), alcohol/drugs and types of vehicles involved. The hope is that knowing more about these accidents can help prevent them. However, no matter the specific causes or statistics involved, the reality is that pedestrian fatalities related to motor vehicle accidents are serious problem in Georgia and across the country.
Anyone interested in reading the report that was cited in this blog post can download a free copy at this link.
Pedestrian Safety
If you search for information on pedestrian safety you will find information about obeying traffic lights and traffic signs. There are tips that recommend only crossing at crosswalks and making sure to wear reflective or bright clothing so you can be seen. A lot of the information is solely focused on the pedestrians. One of the things that must be remembered is that both pedestrians and drivers can be responsible for these serious accidents. Every accident is different, so no one should ever make a generalization or assumption about fault in these accidents.
Negligence
In Georgia, it is possible for a pedestrian to be partly at-fault in their accident and still have a potential case against the driver of the vehicle that hit them. As long as the driver of the vehicle that hit the pedestrian is more negligent than the pedestrian, then they can still recover damages against the driver. That goes for the driver as well. And yes, a driver could potentially bring a case against a negligent pedestrian for their accident related injuries as well.
This information is important for accident victims because many times people assume that they may or may not have a case based on things they may have heard from other people (non-lawyers) or general internet research. For example, I have heard that a pedestrian hit outside of a crosswalk is automatically at-fault. That is not true. Or a driver could not be at-fault if the pedestrian darted out in front of them. Every case is different and every case should be looked at by an experienced personal injury lawyer before assuming you know everything about your case.
Atlanta Georgia and Duluth Georgia Pedestrian Lawyers
At Scholle Law, our office fields calls from accidents victims on a daily basis. That includes car accidents, truck accidents, motorcycle accidents, bus accidents and pedestrian accidents. We speak to people every day about their accidents, people looking for the information they need to know in order to move forward after a serious injury related accident.
Anyone contacting our office can receive a free consultation from an experienced personal injury attorney. Our lawyers only handle matters related to injury law. We focus on serious accidents, the majority involving car accidents. During a free consultation we will speak to you about your accident, help you get your accident report (if you need it) and try to answer all of the questions that you may have.
We do all of this because we are in the business of helping people move forward after they have been in a bad accident. We have been doing this for over two decades. Our Duluth based office serves the Atlanta area as well as the other many cities and communities across the state of Georgia. Call us at 770-717-5100 or contact us through our website here.