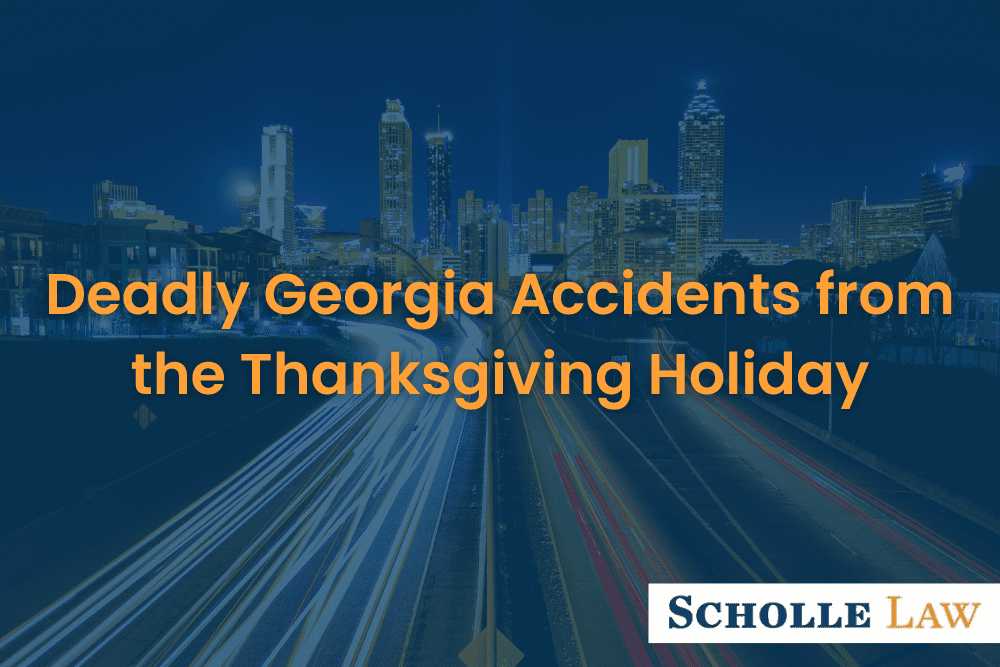 The Atlanta Journal Constitution (AJC) reported 24 deaths from fatal accidents that occurred over the Thanksgiving holiday weekend. The Georgia Department of Public Safety (DPS) tracks this information. 2020's 24 fatalities are a substantial increase from last year's total.  The Georgia Department of Public Safety recorded 12 fatalities related to deadly Georgia accidents occurring during the Thanksgiving holiday for last year.  The Thanksgiving holiday time period is the Wednesday night before Thanksgiving through the following Sunday night. 
The 24 deaths from 2020's deadly Georgia accidents occurring during Thanksgiving are also greater than the number from 2018. In 2018, the DPS recorded 15 fatalities in Georgia during the Thanksgiving holiday. Potential contributing factors in these deadly accidents include speed and alcohol. Weather during the weekend included in rain, potentially contributing as well.
DPS Troopers recorded 604 crashes resulting in 300+ injuries. Other stats from the DPS include 11,172 citations given, 13,184 warnings given, 281 impaired drivers arrested and 6,509 speeding citations. These numbers are significant! Experts expected 2020 Thanksgiving holiday auto travel to decline compared to previous years' numbers. Covid-19 impacted air travel therefore impacting expected auto travel stats as we reported in a recent blog post.
Holiday Travel Is Dangerous, Slow Down  
Every year our office represents accident victims hurt during holiday travel.  Thanksgiving, Christmas, New Year's Eve, Memorial Day, 4th of July and Labor Day are the most traveled holidays in Georgia, and many other states as well. Accidents happen every day in Georgia! However these holiday fatality statistics are a reminder to always take care while traveling on Georgia's roads and highways.  Georgia deadly Accidents don't cease during the holidays, so it is a good time to remember to slow down. No matter how quickly you want to arrive at your destination, slow down and drive safe because getting there safe is what is most important!
Bad Accidents Happen to Good Drivers
Telling a safe driver to drive safe does not prevent them from being hurt in accidents. Even a driver that is cautious and courteous can not always avoid a car or truck accident. There are multiple schools of thought about the safest driving techniques. Even though most people do not do it, taking a defensive driving class to brush up on driving skills is not a bad idea. Consider taking an online or in-person defensive driving class. The courses cover topics about crash prevention, traffic laws and safety equipment. The bottom line here: remember that your good driving may not overcome someone else's bad driving. Always stay focused during your travels.
Well Rested Drivers Are Safer Drivers
Did you know that reports show tired or drowsy driving is dangerous in a manner similar to intoxicated or drunk driving? Sleep deprivation results in effects similar to a night of drinking. Tired drivers should not be behind the wheel! Consider this: well established Federal laws exist to limit how many hours truck drivers can drive before a required rest. The same logic should also apply to non-commercial drivers as well. 
Always get good rest the night before a long drive. During a long drive, a tired driver should take a break for some coffee or something to eat.  There are safety devices on newer model vehicles that detect tired driving and track time behind the wheel. But do not ever rely on your vehicle to tell you that you are tired. Lastly, be safe and do not drive when you are tired.
Drinking and Driving: Don't Do It!
Drunk driving accidents are 100% preventable. There is no excuse for drunk driving! With ride sharing apps and today's technology, a ride home is literally as easy as the click of a button. For additional motivation to not drink and drive, consider this: drinking and driving is illegal and deadly. No night out is worth jail time or the risk of a DUI accident and harming yourself or someone else. Since money also motivates people please know that hiring a lawyer to defend a DUI is very expensive and can cost $10,000 or more. Lastly, your insurance rates will skyrocket after a DUI!
"Rain, Nor Sleet or Snow"
The U.S. Postal Service uses the adage about rain, sleet and snow to remind us that bad weather does not prevent the mail from being delivered. Unfortunately, bad weather does not prevent enough drivers from staying home when the weather is bad. In Georgia, bad weather includes lots of rain and even the occasional snowflake. Georgia deadly accidents can occur in good weather, why take a chance during poor driving conditions? It is easy to tell people that they should not drive when the weather is bad. But it is not realistic. Check the weather before you begin your holiday travel. Be mindful that accidents are often caused by poor weather conditions. 
Contact a Georgia Injury Lawyer
After a holiday accident speak to an attorney before you speak to the insurance company! An experienced personal injury attorney will advise you about your options for moving forward after your car accident. The attorney will discuss issues including medical bills, lost wages, and your pain and suffering.  All those factors relate to the potential compensation accident victims receive for their accident linked injuries. Experienced injury lawyers know what accident victims need to know. They also know the tactics that insurance companies use against accident victims. After a holiday accident, call an attorney. Of course, this same advice applies to all accidents and not only accidents that occur during holidays. Always call a lawyer!
Scholle Injury Attorneys
The Scholle Law Firm has been representing injured Georgians for 2+ decades.  The firm's lawyers work hard for their clients and speak to people about their accidents every day. Scholle Law provides free telephone consults to people injured in car, truck, motorcycle, work and other accidents. To receive a free consultation with one of the firm's experienced Georgia attorneys contact the office and one of our professional staff members will put you in touch with an attorney. That attorney will listen to your concerns and take the time to answer all of your questions. It never costs anything to see how Scholle Law may be able to help you!
To set up a meeting, call us today at (866) 592-1296 or contact us online.