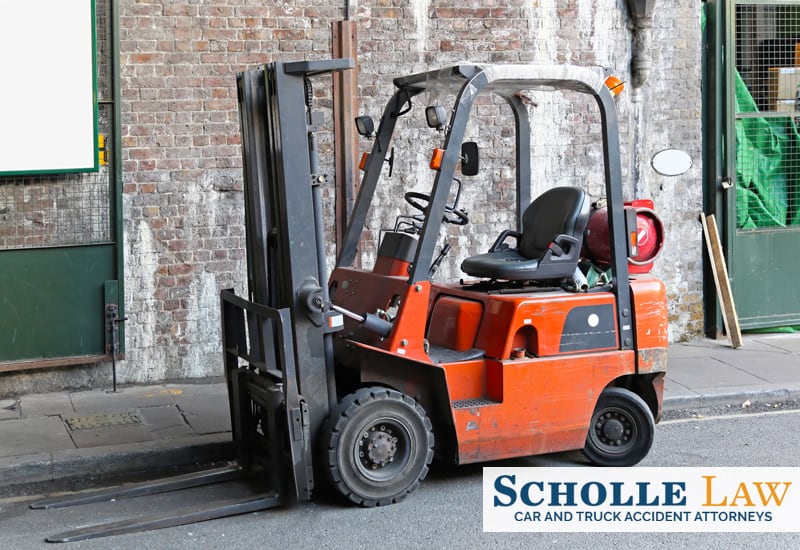 Atlanta car accident and serious injury attorney Charles Scholle discusses what happens when accidents occur on the job and the types of claims available to injured Georgia workers
"Not only was I in an accident, but it happened while I was working."
In Georgia, depending on the circumstances, sometimes an employee who is injured on the job may be able to file a claim for workers' compensation, as well as a third-party negligence claim against the at-fault individual who caused their work-related accident and injuries.
However, there are important factors that determine what options are available to the injured worker, which is why it's vital you speak with an experienced injury attorney soon after your accident and before you speak to anyone from your employer's insurance company.
In this article, we will explain the circumstances of when an injured employee may be able to file a personal injury claim if they have been involved in a work accident. We will give some examples of different scenarios that might affect your ability to file a third-party personal injury claim.
At Scholle Law, our office speaks to injured Georgia workers regularly and our firm proudly represents injured accident victims across the state of Georgia—whether the injury happened while you were on the clock or off.
Workers' comp or personal injury, or both?
Most people are aware that there are protections for people who are injured while doing their job.  Unless you are an independent contractor or someone who gets paid "under the table," Georgia law generally has statutory guidelines in place that will provide compensation for an injured worker's medical bills and lost wages—in some cases, in a lump sum settlement.
What most people do NOT know, however, is that injured workers in Georgia may be able to maintain their workers' compensation benefits and file an additional third-party personal injury claim, depending on the facts of the work injury.
While every accident and injury case is different, it is important to remember that there is no guarantee that an injured worker will only have one type of claim or be able to bring both of these types of work-related injury claims. This is why it is imperative that you should contact a personal injury lawyer near you as soon as possible if you or a loved one were injured in a work-related car accident or suffered some other injury while on the job.
Can you file a negligence lawsuit for a work accident?
Chances are that if you are reading this, you are researching options about your work injury claim.
For starters, you are welcome to give us a call to let us explain what your options are. We will take the time needed to find out the circumstances behind your case so that we can help you make the most informed decisions. We are always available to speak to anyone injured in any accident, so don't hesitate to contact us with your questions.
However, if you're not yet ready to reach out to a lawyer and want to continue researching, we've got you covered too.
Bottom line:
In Georgia, an injured worker may be able to bring claims under workers' comp and under the negligence (tort) laws of Georgia.
However, you should understand that the facts and rules behind these cases are not always clear-cut.
For example:
What does it actually mean to be hurt at work?
How to prove that workers' compensation is owed
For any type of work injury claim to be valid, the injury must have happened while the person was working. Under Georgia laws, this means that the injury must happen or arise out of or in the course of the employment.
When we say that the injury must arise "out of the employment," this means there must be a clear connection between the work required to be performed and the injury that was sustained. Regarding the "course of the employment," the injury must have occured while a worker was engaged in duties related to the work, during their employment period and at a place where the employee or worker may reasonably be expected to be performing their work duties.
While these concepts may seem simple and straightforward, it is extremely important for a work injury attorney who is representing a person injured in a work-related accident to effectively convey these facts and factors. These issues must be proven before an injured worker can successfully maintain a workers' comp claim or receive workers comp benefits in the state of Georgia.
In many cases, it is common for an employer or their workers' compensation insurance carrier to argue that the injured worker was injured outside of the scope of their employment or they were hurt while engaging in activities that were not work-related.
Additionally, employers or their insurers frequently attempt to deny a worker's claim by arguing that a pre-existing injury or condition was the cause of a work injury. These are all issues that an experienced injury lawyer can help with.
Establishing liability in a third-party claim
So let's say you are able to prove that your injury was indeed work-related and you are entitled to receive workers' compensation benefits.
But what if you were hurt at work by a  third party? How does that work?
The classic example of a work injury is when an employee is injured while lifting something heavy or while using a piece of heavy machinery. In this type of situation, generally a person will only be able to recover damages through workers' comp because there was no third party involved in the injury.
The classic example of a third party injury claim is a work-related accident such as a delivery driver who is hit by another vehicle while delivering packages on their route. Assuming that the injury arose from the employment and that the delivery driver didn't cause the accident, the delivery driver may be able to file a workers' comp claim with his employer and sue the at-fault driver for negligence.
It's important to understand that negligence doesn't normally prevent an injured employee from filing and maintaining a workers' comp claim. The 2 claims are separate.
However, in the previous example, if the delivery driver had been partially or fully at-fault for the accident (51% percent at fault or more, in Georgia) then the delivery driver would not be able to successfully recover damages from a third party liability claim due to their own negligence that played a role in the crash.
Georgia is a modified comparative fault state, which means that a party cannot recover damages in an accident or injury case if they are found to be 51 percent or more at-fault.
It's important to note that Georgia workers' compensation laws do not operate under that same standard. Quite often, injured workers receive workers' compensation benefits in Georgia even if they were responsible for causing their own accident and injury.
There are exceptions and exclusions to this general rule, though, so be sure to speak to an experienced attorney before making any legal conclusions on your own.
Examples of third-party work injury claims
Personal injury lawyers often speak in the context of accidents involving motor vehicles like cars, trucks, motorcycles and commercial vehicles such as big rigs, tractor trailers, trains, buses, etc. Even so, it is relevant to note that third-party claims do not have to be limited to situations involving motor vehicles, delivery drivers or the use of a work vehicle.
Third party work claims can be established as long as the injured party is not mostly responsible (51 percent or more) for causing the accident and so long as the responsible party is someone other than their employer or co-worker. In Georgia, injured workers are generally not allowed to sue their employer for negligence if workers' compensation is available.
Here are 3 common examples of third party claims:
John works for ABC Co. in their warehouse. He is injured by a delivery driver of another company when the driver making the delivery runs over John's foot with a forklift owned by the delivery company.
Sandra is an outside salesperson for Acme Products, Co. While on a sales call to a customer's office, Sandra hits her head in a slip and fall accident. She fell because there was a spill on a slick floor that hadn't been cleaned up, yet the customer didn't warn Sandra about the hazard. In addition to seeking workers' compensation benefits from Acme, Sandra may be able to file a third-party premises liability claim against the customer.
Robbie works at a meat processing plant. His employer, Main Street Meat Co., recently purchased new equipment to speed up the process of cutting and separating the different meats being processed, cleaned and packaged. While working on the production line, the new equipment malfunctions and severely injures Robbie's hand. Upon investigation, it's revealed that the new equipment was defective. In this case, Robbie may have a third party defective product claim against the manufacturer.
If all these examples featured employees whose injuries arose out of and during the course of their employment. Injured employees with similar claims may be eligible to file both workers' compensation claims and third party claims.
What to consider when suing a third party for a work injury
Any experienced personal injury lawyer speaking to someone about a work-related accident or injury should screen the prospective client for causes of action that arise under both workers' compensation and third party liability. At Scholle Law, we regularly receive these calls and we always tell the caller that we cannot have this discussion without first addressing whether or not it is mandatory for an injured worker to pursue a workers' compensation claim.
Many people call our office and ask about whether they must go through the workers' compensation process. Generally, the answer depends on what the injured party wants to do. When talking about work-related car accidents (most frequently delivery drivers), we generally advise prospective clients about their right to pursue a workers' comp claim.
Occasionally, people refuse to even consider filing a workers' compensation claim because they are worried that doing so will cost them their job. While there are protections under the law that function to prevent employers from retaliating against employees for this very reason, this is a serious and legitimate concern because it's sadly true that people have been unlawfully fired for pursuing a workers' comp claim.
That being said, we will always recommend a couple of things.
First, if we think you may have a potential workers' compensation claim, we will advise you on how best to pursue that option and discuss the next steps in moving forward with a workers' compensation claim.
Additionally, we will recommend that you learn about your company's policy on reporting work injuries if you don't already know what it is. Speak to your HR department or supervisor about your workplace's policy relating to work-related injuries. And always remember that there are important timelines that govern your ability to file a workers' comp claim, so speak to an attorney soon after the injury occurs.
What are the benefits of workers' compensation over suing for negligence?
The reason we encourage injured workers to seek payment through workers' compensation first is because this system has a number of advantages compared to the personal injury system.
For starters, a workers' compensation claim may give an injured party benefits for healthcare that they may not otherwise have. For example, someone without health insurance who is hurt in a car accident will find that it can be difficult to find and afford medical care. But if you have a work-related car accident that is not your fault, you can readily use the medical providers that workers' comp makes available to you.
Getting well is one of the biggest goals that any injury victim should have, and having access to medical care through workers' compensation is important to achieving that goal. In the event that we have a client who is unable to see a doctor because they are uninsured, we usually have a conversation with them about the benefit of filing a workers' compensation claim if possible.
Another benefit of workers' compensation is that it's a no-fault system, meaning you can receive benefits regardless of who or what caused your work-related injury. This is in contrast to negligence torts in which the plaintiff has the higher burden of proof to establish fault and liability in order to recover damages.
One disadvantage of workers' compensation that's worth noting is that it does not recognize compensation for pain and suffering, whereas Georgia's tort law does. Therefore, an injured worker would generally have to file a third-party negligence lawsuit if they wished to seek damages for pain and suffering.
Is filing a workers' comp claim and a negligence claim double dipping?
Many times, we hear clients say that filing both a workers' comp claim and a third party personal injury claim feels like getting paid twice for the same accident—or making a double recovery. While that certainly sounds nice and we want our clients to get every dime they are entitled to, understand that the logic behind pursuing both a workers' comp claim and a third party negligence claim is not for this purpose.
In fact, if you do decide to file both claims, your attorney will have to work twice as hard to resolve all of your medical bills so that you do not owe money to the medical providers once your case is over.
Depending on the situation, there can be what is called an "offset" which limits some of your overall recovery. An offset is generally not something significant enough to dramatically impact the amount of money that you may be able to walk away with, but it is something that an experienced work-related injury lawyer should discuss with you so that you have a full understanding of its impact on your recovery.
Can you sue your employer for a work injury?
Client's and new callers to our firm frequently want to know if they can sue their employer for getting hurt on the job. The general answer is no.
Again, there are certain exclusions and exceptions, but for the most part, injured employees who are hurt on the job can exclusively recover compensation for their work injuries through workers' compensation and/or third party injury claims (lawsuits against defendants other than your employer).
Workers' compensation exists to protect both injured workers and employers. It benefits workers by providing quick, no-fault compensation when they get hurt on the job; it benefits employers by protecting them from getting sued.
When to consult an Atlanta work injury attorney
There are many other distinctions and considerations to think about when filing a work injury claim, and this general discussion is no replacement for a face-to-face conversation with an experienced work injury lawyer.
If you were injured in a work-related accident or injury in Atlanta or elsewhere in Georgia, you are most likely going to have concerns about how this will impact your job, your finances and your future. Being injured at work is a serious issue and injured workers should take time to explore their options so that they can make the best decisions for their individual situation.
At Scholle Law, our attorneys can advise and inform you about the important decisions you'll need to make in the coming days, weeks and months. If we find that a prospective client is able to bring a third-party personal injury claim and a workers' compensation claim, we will advise them of all the options available so that they can make the best decision for themselves and their family. We want our clients to get the maximum compensation they may be entitled to under Georgia laws and we will do everything we can to help them maximize their recovery.
Have questions?
Contact Scholle Law for answers. Your initial consultation is free.