Lawrenceville Bicycle Accident Lawyer
Skilled Bicycle Accident Lawyers Serving Lawrenceville, Georgia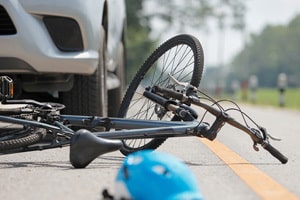 Bicycle accidents can result in anything from slight injuries to extensive, long-lasting trauma. Whether participating in one of the annual rides at Gwinnett Fallen Heroes Memorial or enjoying a day at Rock Springs Park, Lawrenceville cycling enthusiasts face the peril of a bicycle accident every time they ride.
That peril is stressful enough, but there may be a reason to stress further in Georgia. Under Georgia law, there is a two-year statute of limitations for any bicycle accident claims.
Unfortunately, there are many reasons that you may need to file your claim sooner (e.g., if an uninsured motorist was involved in your accident or if your accident involved a city-owned vehicle).
This means that you may not have a lot of time to act. When you're recovering from a bicycle accident or any personal injury accident in Lawrenceville, you need to be able to focus on healing, not investigating an accident or filing paperwork as quickly as you can.
The Lawrenceville bicycle accident lawyers at Scholle Law will be happy to handle your case for you. Call or contact us online, and the team can help you with a free, no-obligation consultation.
Factors Contributing To Lawrenceville Bicycle Accidents
Motorist negligence is one of the primary causes of bicycle accidents in Lawrenceville (although, in some cases, victims may be able to hold the bike manufacturer partially liable).
If the accident was caused when a car struck the victim, typical contributing factors include:
The driver was operating the vehicle recklessly
The person responsible was driving under the influence
The driver was distracted
The driver failed to yield to the pedestrian or follow appropriate signage
What Injuries Are Associated With Lawrenceville Bicycle Accidents?
Unlike motorists, bicyclists don't have a metal frame protecting them in an accident. This makes it more likely that they will sustain severe injuries such as:
Road rash
Fractured or broken bones
Spinal cord injuries
Disfigurement
Amputation
Brain injuries
While many people underestimate the costs associated with bicycle accidents, it's clear that the experience can be traumatic (and the recovery, lengthy).
Making sure that you have the resources you and your family need to thrive is essential.
What Damages Can I Collect After A Lawrenceville Bicycle Accident?
There's an incorrect perception that bicycle accidents are less painful, disastrous, or damaging than car accidents.
In reality, the injuries that follow a Lawrenceville bicycle accident can be devastating. You may require fair compensation to cover:
Medical bills
Loss of income
Any damage done to your bicycle or property
Pain and suffering
Even wrongful death
To help you work towards fair compensation, your Lawrenceville bicycle accident lawyers will review the accident, your medical bills, local signage, and more to determine the extent of your damages.
There are three types of damages you may be able to recover. These include:
Economic Damages, or verifiable monetary losses or expenses
Non-economic Damages, or subjective (yet equally important) subjective losses, such as pain and suffering
Punitive Damages, or damages awarded at the court's discretion to punish an individual whose actions were especially reckless.
To determine negligence and assess damages, your lawyers will need to collect as much evidence as possible surrounding your bicycle accident. This may include:
Visiting the scene of the accident
Reviewing police reports
Reviewing your medical bills
Speaking with insurance
Examining the state of your bicycle
Examining the state of the car
…and more.
Consult With A Lawrenceville Bicycle Accident Lawyer Today
When you or a loved one is healing after a traumatizing or painful Lawrenceville bicycle accident, it's imperative that you can trust your lawyer to take care of matters for you.
At Scholle Law, that's exactly what we do. We will prioritize handling your case as efficiently and effectively as possible. Once we learn about the details of your case, we will:
Investigate your Lawrenceville bicycle accident
Examine the evidence to determine fault accurately
Discover your economic and non-economic losses
Determine your damages
Fill out paperwork quickly (so you can get your benefits faster!)
Negotiate with insurance companies on your behalf
Represent you in court, if necessary
Ultimately, it's our goal to get you the compensation you need in a timely manner. We'll start shortly after you give us a call or contact our team online for a free, no-obligation consultation with a Lawrenceville bicycle accident lawyer.