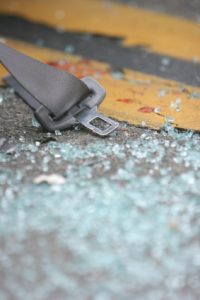 Recently, an elderly Norcross husband and wife drove along a local road not suspecting it would be their final moments together. Their vehicle was suddenly struck by another car. Behind the wheel of that vehicle was a 17-year old teen. The auto collision was the result of a rapid and tragic series of events. The teen had come upon stop sign with a vehicle stopped at it. Apparently, to avoid hitting the stopped vehicle, he swerved his vehicle and traversed several traffic lanes hitting the elderly couple's vehicle. The impact on the couple's car caused it to travel across two lanes of traffic. Both the husband and the wife passed away due to injuries sustained in this auto crash.
The teen has been charged with several violations of Georgia law, including failure to obey a stop sign and reckless driving. The most severe consequences could come if the teen is indicted and convicted of vehicular homicide in the first degree. Georgia's vehicular homicide provision is found in Official Code of Georgia Annotated provision 40-6-393 (a). In this provision, homicide by vehicle in the first degree can occur when a person is driving in a manner that results in the death of another, even if the person charged did not intend to harm anyone. The consequences of a conviction of the provision can be severe — prison for three years minimum or a 15 year maximum.
This Georgia auto crash is under investigation. But one thing is certain. The life of this teen has been changed forever. Even if he is not convicted of this crime, he will have to live with the consequences of a failure simply to stop at a stop sign. Perhaps only he knows why this was not possible.
An accident in which a driver is found guilty of a crime for taking the life of others, can also result in civil actions brought by the deceased's family members. A wrongful death action involves the next of kin or other close family member or representative, bringing a lawsuit against the person or persons responsible for the loss of a loved one's life. Georgia law permits such an action because when a loved one loses his or her life due to the fault of another, families may lose the main source of a family's income. Wrongful death is a way for families to be compensated for the loss of that income over the expected life of the deceased family member. In addition, they may receive compensation for the suffering of their family member. Although families grieving after the loss of a loved one, the wrongful death action helps to protect surviving family members.
Scholle Law is here to provide support to families after an injury or accident. Please contact us for a complimentary evaluation of your situation. There is no obligation for this consultation. And in most of the cases we handle, we get paid when you get paid.