Duluth Bicycle Accident Attorney
Professional Bicycle Accident Lawyers In Duluth, Georgia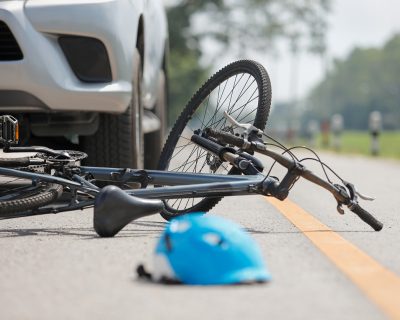 Bicycling is a great way to get some exercise and get around Duluth, but just like driving a car or motorcycle, it can be risky. Many drivers do not expect to see cyclists, so they may not notice them until it is too late. Some drivers seem to even resent bicyclists sharing the road with them, which can have disastrous results.
Bicyclists often must share the road with cars, trucks, and other much larger vehicles. Unsafe roads, construction, and reckless driving can cause a collision between a cyclist and a vehicle, resulting in devastating injuries. As you may imagine, when a motor vehicle and a bicycle collide, bicyclists are more vulnerable than either motorists or passengers.
For over two decades, Scholle Law has represented victims of bicycle accidents and their families. We have recovered millions of dollars for our many clients. If you have been injured in a bicycle accident caused by someone else's actions or negligence, you have legal options. Our Duluth bicycle accident attorneys are standing by to offer you a free consultation.
What Should I Do After A Bike Accident?
First and foremost, you should seek emergency medical attention if you have been seriously hurt. If you do not immediately feel pain, try to get the contact and insurance information of anyone involved, document all of your injuries and damage by taking pictures, and get checked out by your doctor or an urgent care clinic.
Above all, do not let an insurance company treat you badly or pay you less than you deserve after a serious injury. Contact a Duluth bicycle accident attorney as soon as possible to discuss all of your legal options.
The Most Common Injuries After A Bicycle Accident
Though Duluth still has a long way to go to make cycling safer in the city, it has come a long way since the car-choked streets of pre-2000. Even so, serious bicycle accidents can also be caused by poorly designed or maintained roads and paths, which can pit the injured rider against a local government agency.
Over the past couple of decades, a growing number of people are riding bicycles to work and for fun. Thanks to improved infrastructure and community support, Duluth and some surrounding suburbs have aimed to become havens for cyclists. Most notably, the beltline has provided miles of paved trails for bicyclists.
Unfortunately, many bicyclists still must use public roads to get to their destination. As such, bike accidents are all too common in the city. These collisions can result in a number of injuries, including:
Traumatic brain injury
Spine Injuries
Neck injuries
Catastrophic personal injury
Paraplegia and quadriplegia
Broken bones
Road rash
Facial contusions
Abdominal and pelvic injuries
Leg and knee injuries
Does Auto Insurance Cover My Injuries After A Bike Crash?
If you were hit by a driver while riding a bike, and that driver is found to be at fault for the collision, their auto insurance should cover your injuries and other costs. But if that insurance is unavailable or there was no other person involved, your own auto insurance policy should cover your injuries.
In particular, you should be able to draw on your policy's uninsured or underinsured (UM/UIM) motorist coverage, as well as coverage for medical payments, if you have purchased these policies. It does not matter that you were not in your car.
UM/UIM coverage is particularly helpful in two specific situations:
The driver cannot be identified, such as in a hit-and-run collision; or
The driver can be identified but does not carry enough insurance to cover the full cost of your injuries. 
You may also be able to use medical payment (MedPay) insurance to pay for your bicycle accident injuries. MedPay is not required in Duluth, but it can be a helpful add-on. This kind of insurance pays for the medical bills caused by injuries to you and anyone else traveling with you, sometimes regardless of who caused the crash. This can be helpful if you do not have health insurance or your health insurance does not adequately cover your injuries.
Unfortunately, auto insurance companies often resist paying claims in unusual situations like bicycle accidents, even when it is clear from the policy that they are required to pay compensation to the victim. Negotiating with the insurance company is just one of the many ways the experienced attorneys at Scholle Law can help you after a bike accident.
Contact A Duluth Bicycle Accident Attorney Today
If that right is infringed upon by vehicle drivers, unsafe road conditions, or other factors beyond the scope of duty for a cyclist, and you are injured, you may be entitled to compensation.
At Scholle Law, we understand how devastating a bike accident can be. Cyclists often have little protection beyond a helmet, so a collision with a motor vehicle can be catastrophic.
The good news is, that you do not have to face the aftermath of a bicycle accident alone. Our attorneys have extensive experience helping bike accident victims secure the money they need to recover from a serious crash caused by someone else's bad decisions.
If you have been injured, do not delay. Call us or contact us online today for a free, no-obligation consultation with a Duluth bicycle accident attorney. The sooner you talk to an attorney near you about your case, the better they can prepare your case and fight for your right to compensation.