Decatur Bicycle Accident Lawyer
Experienced Bicycle Accident Attorneys in Decatur, Georgia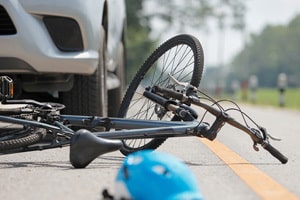 Decatur brands itself as a "bicycle-friendly community," highlighting the Decatur Park Route, South Decatur Loop, and several other scenic paths throughout the city. Decatur's bike-friendly environment depends, though, on the cooperation of motor vehicle drivers. If you or a loved one suffered injuries in a bicycle accident in Decatur, Scholle Law will fight for justice. A Decatur Bicycle Accident Lawyer from our firm is ready to help you today.
What Should I Do After a Bicycle Accident in Decatur?
Your priorities after a bicycle accident may include:
Protecting your health
Seeking justice for your accident
Defending your right to pursue fair compensation
Your health is the first priority after a bicycle accident in Decatur. If you have not already, seek medical attention as soon as possible. Doing so will protect you from further injury and worsening symptoms. You will also establish the connection between your bicycle accident and your injuries. If a loved one lost their life in a bicycle accident, a wrongful death attorney is available. 
An attorney from Scholle Law will seek justice and protect your rights. While you are on the path to recovery, we'll handle your case for fair compensation.
Scholle Law Will Seek Fair Compensation for Your Bicycle Accident
The attorneys at Scholle Law work in Decatur every day, and many of our staffers use the bike paths throughout the city. When motor vehicle drivers put bicyclists at risk, we take it personally.
We will pursue compensation for your damages by:
Gathering all relevant facts and evidence: Whether a motorist struck you or your accident happened another way, we will gather all relevant details. We'll also seek evidence such as witness accounts, video footage of the collision, photographs of injuries and property damage, and reconstructions of your accident.
Pinpointing liable parties: Liable parties in a Decatur bicycle accident may include a negligent motorist, an establishment that overserved a drunk motorist, or any other party contributing to the accident. If someone struck you while they were working, their employer could also be liable.
Calculating your damages: The Centers for Disease Control and Prevention (CDC) notes that bicycle accidents cost about $23 billion annually. Your accident may be costly, and we'll determine the value of your damages.
Pursuing a settlement: We'll pursue a settlement with liable parties. Our attorneys may present proof of your losses, evidence of the defendant's liability, and calculations of your damages. Settling is not our only option, but it is one possible outcome for your case.
Going to trial (if necessary): We can also go to trial if your circumstances warrant. With a track record of significant recoveries, Scholle Law is comfortable at the negotiating table and in the courtroom.
We will handle the day-to-day responsibilities of your case. You or your loved one can focus entirely on your health. We'll fight for the financial recovery you need to move forward.
What Are Recoverable Damages for a Bicycle Accident in Decatur?
Scholle Law will work directly with you, your doctors, and our experts to identify your damages. Every bicycle accident victim in Decatur has unique losses. Your damages may include:
Medical expenses
Lost income, bonuses, and benefits
Lost earning power
Bicycle repairs
Temporary transportation
Pain and suffering (and necessary treatment)
If your loved one passed away because of a bicycle accident, we'll seek coverage for related losses.
Why Choose Scholle Law for Your Bicycle Accident Case?
Scholle Law isn't some out-of-town law firm that swoops in to handle injury cases. With offices located on Clairmont Avenue, many of our team members are residents of Decatur. We understand the local laws and legal procedures, but just as importantly—we care about our fellow Decaturans.
You'll feel like a member of the Scholle Law family and can expect:
Passionate legal representation
A direct line to your attorney
Active communication about your case's progress
The full financial support of our firm
Expect us to fight for the full financial recovery you deserve. You'll pay nothing upfront for our services. Our attorneys only receive a fee if they win your case.
Call Our Decatur Bicycle Accident Lawyers Today for a FREE Consultation
Do not wait to contact our team. We may face a deadline for filing your case, so time is a key consideration. Our team is standing by, ready to receive your call.
Contact us today for your free consultation. A Decatur bicycle accident lawyer from our team is ready to start your case.