Decatur Pedestrian Accident Lawyer
Experienced Pedestrian Accident Attorneys Serving Decatur, Georgia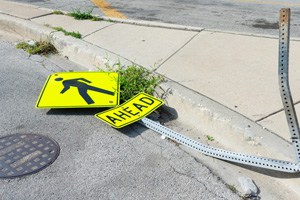 Much of Decatur's charm comes from its status as a slower-paced alternative to Atlanta's busy streets. From The Square to Oakhurst and other corners of Decatur, walking is an affordable, safe way to enjoy the city. That is, until a motorist acts recklessly, putting pedestrians at risk of serious injury or even death.
Have you or a loved one suffered a pedestrian accident in Decatur? You may deserve a financial recovery for your damages. Call Scholle Law today or contact us online for a FREE consultation.
How Our Lawyers from Scholle Law Can Help You
The typical pedestrian in Decatur stays busy with work, family, and visiting the city's trendiest attractions. With so much on your plate, you may never even consider this question: What should I do after a pedestrian accident?
This is where Scholle Law comes in. A Decatur pedestrian accident lawyer from our team will:
Help you get the medical care you need: We can help you arrange all necessary treatment for your injuries. We'll also gather documentation of your medical care, which will serve as proof of your losses.
Gather all relevant evidence: We'll seek video footage, witness accounts, and all other accident-related evidence. Our team will preserve this evidence to use during settlement negotiations or at trial.
Evaluate your damages: From healthcare expenses to lost wages and pain and suffering, we'll seek proof of all the damages you've suffered.
Hire any experts who can help your case: Scholle Law will hire any experts who are a credit to your case. These experts may testify, reconstruct your accident, or help us prepare your case. Our firm handles the cost of hiring all experts.
Start and finish the legal process: We'll draft your lawsuit, file it, and see it through to a settlement or judgment.
Charles Scholle and the Scholle Law team have much experience leading personal injury cases in Decatur. We'll rely on this experience as we seek a fair financial outcome for you.
Recoverable Damages in a Pedestrian Accident Case
Each pedestrian accident case in Decatur involves unique details. We must understand your case before providing a calculation of damages, but your losses may include:
Pain and suffering: We expect that you'll be suffering after your pedestrian accident in Decatur. You may have injury-related pain, emotional distress, and other forms of pain and suffering. These losses may entitle you to compensation.
Professional damages: Your accident may cause you to miss time from work. Lost productivity may mean lost wages, bonuses, benefits, and other job-provided perks. We'll seek fair compensation for such losses.
Medical expenses: The force of a motor vehicle striking a vulnerable pedestrian can be devastating. Regardless of your specific injuries, we'll seek coverage for all of your accident-related medical care in Decatur.
Property damage: Cellphones, sunglasses, watches, and other personal property can suffer damage during a pedestrian accident. We'll pursue fair coverage to repair or replace your damaged property.
We'll speak with you to identify any other recoverable damages you've suffered. If you're likely to experience certain losses in the future, we'll include those projected losses in your lawsuit.
Of All the Pedestrian Accident Lawyers in Decatur, Why Choose Us?
As you walk, ride, or drive the streets of Decatur, you'll see many advertisements for personal injury law firms. We believe that Scholle Law could be the right fit for your case.
With an office located on Clairmont Avenue, Scholle Law has a significant investment in Decatur. We truly care about the city's well-being, including its pedestrian citizens who suffer unnecessary harm.
With Scholle Law, you can expect:
Attorneys who fight for the entire financial recovery you deserve
Active communication
Compassionate legal representation
Financial support
A tireless fight for justice
You will pay no upfront fees or costs to hire Scholle Law. We only receive an attorney's fee if we achieve a positive result for your pedestrian accident case in Decatur.
Contact Our Decatur Pedestrian Accident Attorney Today for Your Free Consultation
You should not wait to contact Scholle Law about your case. A Decatur pedestrian accident lawyer from our firm may have a limited window for filing your case.
Call Scholle Law today or contact us through our website for your free consultation.