Were you or a loved one recently in a serious car crash in Georgia?
Our car accident lawyers will hold negligent drivers accountable and fight to secure the compensation you deserve.
Most people don't realize how much a car accident can change their life until they've experienced one for themselves. The consequences of a serious car accident can include catastrophic injuries including brain injuries, paralysis and even severe burns—or most tragically, death.
Serious and fatal car accidents are on the rise in Duluth and many communities across Georgia. Atlanta is well-known for its notoriously bad traffic, and as the city grows this traffic has spread to the suburban areas of Gwinnett County in towns like Lawrenceville and Suwanee.
Verdicts & settlements
$5,500,000
T-bone accident
Georgia resident suffered a traumatic brain injury and multiple fractures.
$4,300,000
Wrongful death
Family of young woman who was killed in a multiple vehicle collision on Interstate 285 in Atlanta.
$1,550,000
Failure to yield
A driver's failure to yield resulting in a death of a motorcycle driver.
$915,000
Orthopedic injury
Car wreck resulted in our client suffering from permanent orthopedic injury.
On average, every Georgia resident can expect to be involved in a car crash every 10 years. More than 1,720 drivers are involved in Georgia car accidents every day. An average of 5 people a day die in Georgia accidents. Car accidents are the leading cause of death and injury to children.
With more driver distractions than ever before, auto accidents have become an everyday occurrence. Although laws have been enacted to help avoid car crashes, such as Georgia's new hands-free law, people in the Atlanta area continue to drive distracted, aggressively and often under the influence of drugs or alcohol.
For over 20 years, Scholle Law has represented hundreds of clients in the most serious car accident cases. We are dedicated to helping our clients, whose lives have been temporarily disrupted or permanently derailed by a collision.
As your dedicated car accident lawyer, we'll start by performing what's called "discovery" to find out all the facts of your case. This may include seeking relevant documents or deposing the other driver to determine whether they were on medication or otherwise impaired when the accident occurred. In a deposition, the witness is under oath and must answer truthfully. We can also determine whether the driver had a history of accidents or was involved in other car crashes that caused injury.
Whether you were injured by a driver who was speeding or texting behind the wheel, or you lost a loved one in a fatal car crash, our Duluth car accident attorneys are here to help you through the process of recovery and to hold the at-fault driver responsible for your medical bills, lost wages and other damages.
Will I have to go to court?
Not necessarily. Often, we're able to settle car accident cases after some discovery has been initiated and the facts are piling up against the driver that caused the injury.
Have questions? Get answers from an injury attorney near you.
Dedicated to Excellence, Committed to Results
I needed a good lawyer to represent me
The damages and the medical bills from the accident were too high…It was a very difficult case…I was very happy with the outcome of the settlement. The quality of Charles' service was wonderful."
John R. – Serious injuries from a car accident
View our clients' video testimonials
Help with car accident cases in Duluth and surrounding areas
No two car accidents are the same. Every car crash case varies in type and cause. While car accident injuries may be similar, they often impact individuals and families differently.
Some of the most common types of car wrecks in Duluth and the greater Atlanta area include:
Our Georgia car accident lawyers represent clients in ALL types of auto accidents, regardless of cause. Whether your injuries are due to the negligence of another driver who failed to yield the right of way in an intersection or who side-swiped your vehicle on a highway, we can prove that your injuries are the fault of the other driver.
Don't trust your insurance company to handle your auto accident claim fairly
Your auto insurance is supposed to cover your injuries after an auto accident. You pay premiums for years in exchange for the confidence that you'll be taken care of if something goes horribly wrong. Unfortunately, many victims of auto accidents discover this isn't true when their insurance company fails to look after their best interests—at a time when they need help most.
Insurance is a business like any other, and insurance companies lose money when they pay high accident settlements. That means insurers routinely offer less than they believe accident claims are worth, relying on customers' lack of familiarity with the process to keep them from having to pay out a full and fair amount.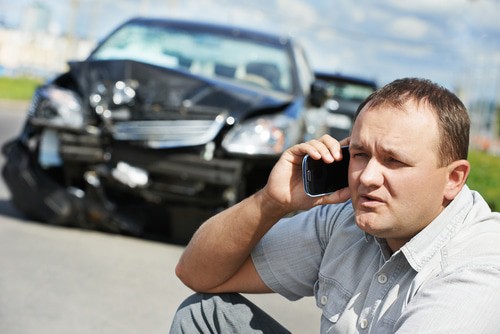 In some cases, particularly cases of severe injury, insurance companies do everything they can to avoid paying at all, even when their own policy contracts say they should. This dishonest behavior victimizes hardworking families twice: first, through the accident itself; and second through the stress and strain of dealing with financial worries on top of their injuries.
Fortunately, Georgia law protects victims of serious auto accidents caused by someone else's careless driving. Victims have the right to bring a personal injury action against the person or organization responsible for the accident and their resulting injuries.
An insurance claim or lawsuit cannot undo your accident, but it can help secure the money you need to support yourself and your family while you heal and get your life back on track.
Our experienced injury lawyers regularly negotiate with insurance companies to get our clients the best settlement possible and take the insurance company to court if they refuse to play fair. We are fierce advocates and will go to court on your behalf armed with all the facts to fight for the monetary recovery you deserve.
Common collision injuries
After a car accident in Georgia, many victims suffer both physical and emotional trauma from these accidents. Your family's finances can also be impacted, as you may be out of work for a while and your health insurance may not fully cover your treatment and recovery. In severe collision cases, the main earner in the family may be out of work permanently with a lifelong disability. In the most tragic situations, the loss of a loved one can result in a permanent and irreparable loss.
Injuries resulting from car wrecks commonly include:
Fractured bones
Coma
Internal injuries
Scars requiring plastic surgery
At Scholle Law, our lawyers will work closely with you and your family to help you during this difficult time. We will leave no stone unturned when it comes to holding those responsible for the injury or death you might be dealing with.
Get help today from an experienced Duluth, Georgia car accident attorney
For over two decades, the Duluth car accident attorneys at Scholle Law have helped accident victims and their families get the financial compensation they are legally entitled to.
Charles Scholle and his expert legal team will fight to remove the burdens standing in your way by communicating with insurance adjusters, helping you understand your case, and working tirelessly to secure the best possible financial recovery.
Is there a time limit for filing my car accident claim?
Yes. The city of Atlanta, Gwinnett County and the entire state of Georgia enforces a deadline on car accident lawsuits (known as the "statute of limitations"). In general, most people injured by a car crash have just 2 years to file a claim. If you don't file your lawsuit before this deadline, you will lose your ability to recover compensation for your damages. It takes time to prepare a compelling case on your behalf, which is why you should talk with a car accident lawyer as soon as possible if you have questions about your case.
Contact us to speak with a lawyer about your accident.
We're available 24/7 and your first consultation is free.
Call 866-972-5287 or send us a message online