Barrow County, Georgia Personal Injury Lawyer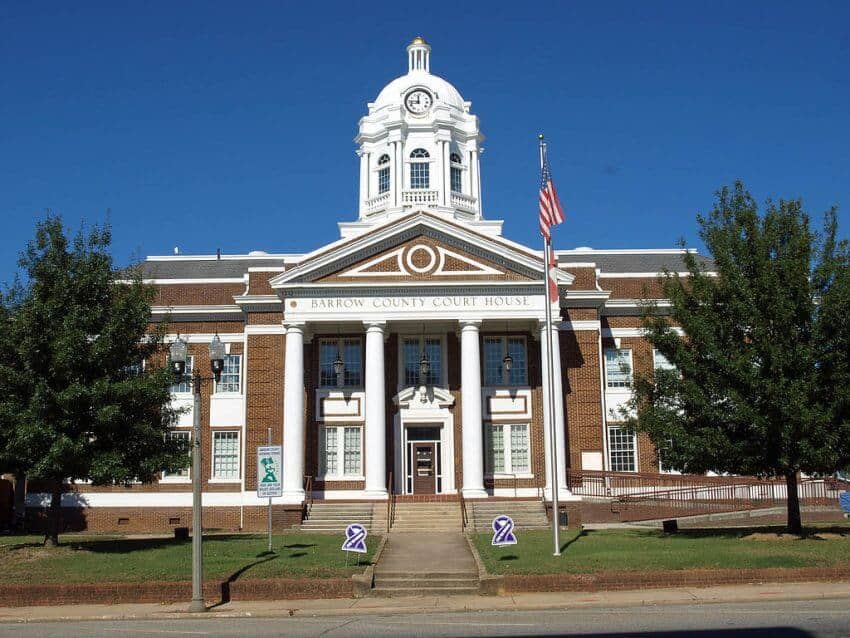 Barrow County is home to approximately 50,000 residents and 10,000 tourists that visit it annually to experience the native historical landmarks.
To facilitate the commute of both residents and tourists, the place is accessible through several highways that traverse the county to help ease transportation. However, the numerous highways, as well as intersections and cross streets that inhibit the county, can quickly become dangerous as the traffic increases.
To put things into perspective, Barrow County has suffered from the highest traffic fatality rate in the state of Georgia. This is a worrisome statistic that expounds the likelihood of suffering an accident.
The increased chances of accidents mean that there is a higher number of people looking to get duly compensated for the wrong done to them due to the negligence of another party. Accidents cause much more than just physical damage, and it is only right that you get paid for all your losses.
If you're looking for a trustworthy ally in your pursuit for justice, call us at (866) 592-1296 or contact us online for a free, no-obligation consultation with a Barrow County personal injury lawyer.
Let's visit a few legal areas that we specialize in:
Barrow County Car Accident Attorney
The relative size of Barrow County does not decrease the frequency of accidents that occur. With more than 500 car accidents resulting in injuries each year, commuters in Barrow face substantial risk. Accidents that occur due to reckless driving endanger not only the life of the driver, but also threaten the lives of their unsuspecting victims.
The leading causes of automobile accidents are:
Driving while under the influence
Sudden lane changes
The use of cell phones while driving
The injuries sustained in a traffic accident can be potentially life-threatening. Furthermore, medical expenses for the injuries you've sustained will sap your monthly earnings, in addition to the lost wages as you recover.
It is imperative that the victims remember that the trauma and stress are not of their doing, instead a result of the negligence of another individual, which equips the victim to file a claim for personal injury.
If you've been a victim of an auto accident, don't hesitate to contact Scholle Law. Our lawyers recognize the grief and stress a victim has to go through, and our passionate representation will assuredly provide you the compensation you deserve.
Barrow County Truck Accident Attorney
As a county area, Barrow County has several industries that utilize large vehicles to move goods throughout the state. Large vehicles are known to cause significant damage in accidents with smaller passenger cars or SUVs.
Any incorrect driving maneuver such as a sudden lane change can lead to a violent end or severe injuries being sustained by car owners. The disparity between size and space a truck occupies on the road, as opposed to a normal vehicle, can lead to accidents that damage numerous vehicles and injure several people. Truck fleets are usually operated by large companies that have insurance coverage. The insurance providers seek to minimize their payments by offering quick cash to silence victims.
The personal injury attorneys at Scholle Law are well versed with such practices and look to defend clients vigorously in such a circumstance. Through rigorous mediation and trials, we have recovered millions for our clients.
If you or a family member or friend has been injured in a truck accident and are looking to fight for due justice, the truck accident lawyers at Scholle Law can prove to be just what you need. With a dedicated team that has over 2 decades of experience, you can count on us for all your legal needs. Contact Scholle Law now for a free assessment of your case and expert legal advice on all your options.
Barrow County Motorcycle Accident Attorney
Barrow County features a sizeable motorcycle presence on highways and roads, as cyclists utilize their favorite medium of transport to work or travel. Unfortunately, Barrow County has seen its share of motorcycle accidents in the past that have resulted in both fatalities and injuries.
Motorcyclists face a grave health threat with the lack of adequate protection in the form of airbags or seatbelts. The helmet, the biker's only protection can also fail to protect against head injuries that result in death.
A motorcyclist who has been through the harrowing experience of an accident can suffer from post-traumatic stress and physical impairments that can impact their quality of life. The financial cost of recovering both, physically and emotionally, coupled with daily household expenses, is unfathomable.
The highly qualified team of personal injury lawyers at Scholle law have invested years earning the legal knowledge and experience of working with accident victims – leading to millions in compensation for previous clients. Our committed lawyers will work alongside you to ensure you are fully recompensed for all your physical and mental injuries.
Barrow County Wrongful Death Attorney
The shock of wrongfully losing a family member can emotionally cripple the grieving family members. The costs associated with extensive hospital stay while recovering from injuries as well as the funeral expenses of the victim can leave any family economically destitute.
The state of Georgia provides two years for filing a wrongful death lawsuit, but the sooner you take action, the better. The full measure of damages you can demand reparations for, include:
The full value of the life of the deceased
Projected life income
Intangible damages
However, the settlement figure that is offered by the party responsible for wrongful death is a fraction of the total damages that can be recovered. It is important that victims, in their hour of mourning, find the emotional strength to contact lawyers that can help them recover the full measure of damages they should justly receive.
If your loved one has died due to the negligence of a third party, it could add considerable mental as well as financial stress on your family. The wrongful death attorneys at Scholle Law – with all our years' experience and dedication to justice – will go above and beyond to ensure your family recovers from the setback financially, and also receives the much needed closure.
To prove our commitment to getting Georgians justice, you pay us only when we've recuperated the amount for you. Call us at (866) 592-1296 or contact us online for a free, no-obligation consultation with a Barrow County wrongful death lawyer.