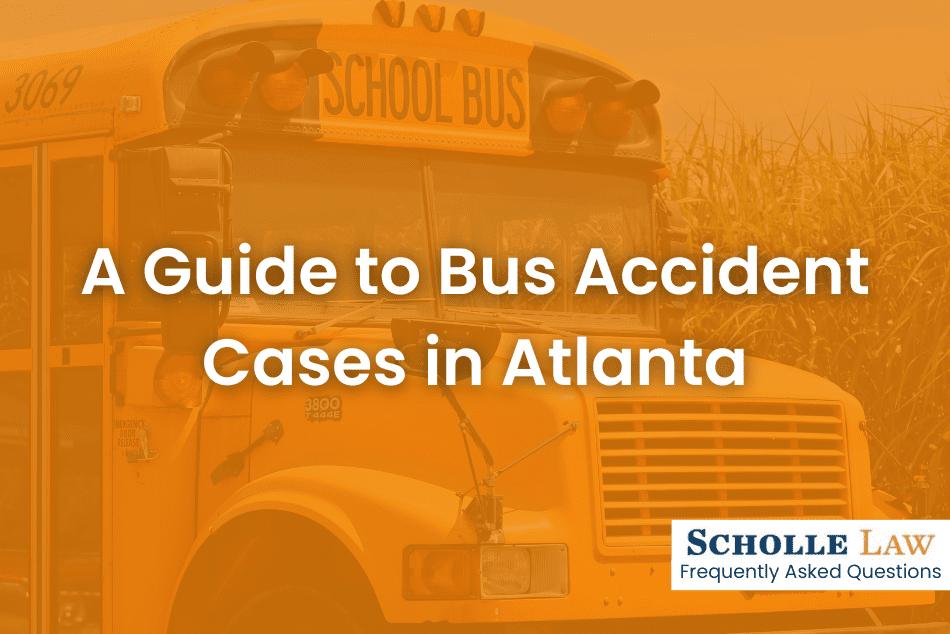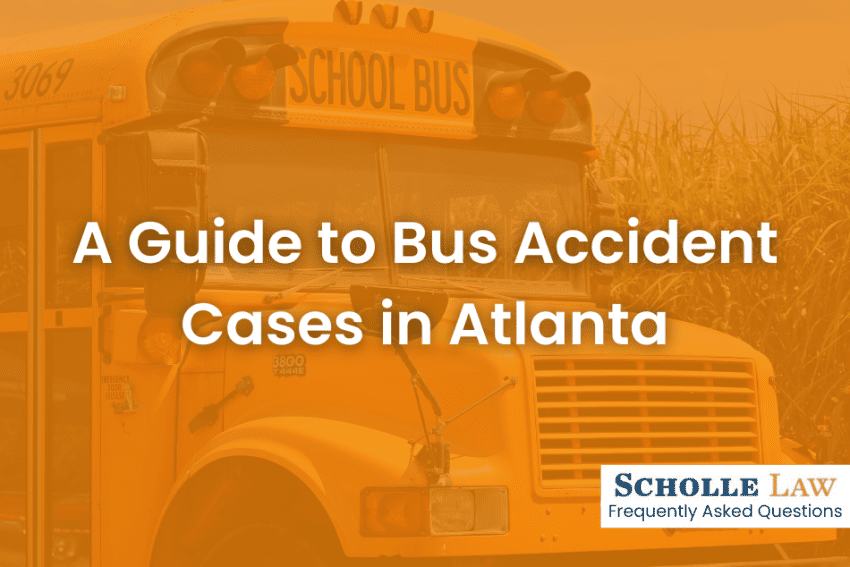 What you need to know about personal injury lawsuits arising from Georgia bus accident injuries and deaths
Bus crashes, collisions and wrecks often involve serious, if not catastrophic personal injury. This is due, in large part, to the substantial size and weight of these vehicles coupled with the extreme force that is generated with these sorts of wrecks. Bus occupants themselves account for the lowest percentage of fatalities, at 10 percent.
Pedestrians and bicyclists are among the second highest category of fatalities, at 20 percent, with occupants of other vehicles suffering the greatest amount of fatalities, at 70 percent.
However, these fatality statistics don't account for injuries, which can be catastrophic across the categories described above. This is true regardless of a person's status as a passenger, driver, or pedestrian.
Common Bus Accident Injuries
As with car accidents, people involved in a bus crash can suffer a wide array of injuries. However, bus occupants are even more vulnerable to bodily injury while falling or being propelled forward as they are often unrestrained without any seatbelt. In many instances, bus passengers may be standing with little to brace their fall other than a small strap, handle, or metal pole. In fact, the poles themselves can cause significant impact related injury. Because of the significant size disparity between ordinary vehicles and buses, drivers and passengers of ordinary vehicles are also at great risk of injury despite the almost universal use and availability of seat belts.
Common serious injuries include:
Bus Laws and Regulations Are More Nuanced
Bus injury cases are often complicated and involve nuanced laws and regulations. The Motor Carrier Safety Act of 1984 expanded the authority of the United States Department of Transportation to regulate the safety of interstate transportation of passengers by commercial motor vehicles (including buses). On January 1, 1995, private motor carriers of passengers (PMCPs) became subject to the Federal Motor Carrier Safety Regulations for the first time.
The transportation of pre-primary, primary, and secondary school children from home to school and from school to home, or any transportation performed by a governmental agency such as a public school district, is not subject to the Federal Motor Carrier Safety Regulations. However, they are subject to state and local laws and regulations as explained more fully below.
Therefore, if you are ever a victim of such a wreck, it is important that you have a legal team at your backing with the experience and knowledge to effectively handle these sorts of cases and achieve maximum compensation for your injuries.
Types of Georgia Bus Accidents
Collisions involving public and commercial bus transportation
In Georgia, like most states, there are a variety of public transportation transit systems in operation and available for use. In the Atlanta area, we are all familiar with MARTA, or the Metropolitan Atlanta Rapid Transit Authority. In addition, Gwinnett and Cobb Counties have their own public transit systems, Gwinnett County Transit and Cobb Transit Service (otherwise known as CobbLinc).
Public transportation carriers and commercial bus lines have a heightened duty to protect their passengers. In fact, it is firmly established under Georgia law that carriers of passengers have a duty to exercise "extraordinary diligence" to protect their passengers.
According to O.C.G.A. § 46-9-132:
"A carrier of passengers must exercise extraordinary diligence to protect the lives and persons of his passengers but is not liable for injuries to them after having used such diligence."
Extraordinary diligence is defined under Georgia law as that extreme care and caution which very prudent and thoughtful persons exercise under the same or similar circumstances. Pursuant to this duty, a common carrier is liable for even slight negligence. What facts suffice to show the exercise of such extraordinary diligence is ordinarily a determination for a trial jury.
Bus lines are highly regulated and must comply with a whole host of regulations implemented under both state and federal law. They must also comply with their own operating guidelines and regulations common within the industry that, in some instances, can be more stringent than those imposed by law.
Commercial driving regulations and industry standards are both complex and voluminous, making it difficult if not impossible for the ordinary lay person to decipher and interpret and then appropriately apply to any given bus injury situation. This is true even when dealing with seemingly simple rules and regulations because they, in turn, are often subject to additional analysis based upon other regulatory provisions.
Therefore, in order to hold the bus lines accountable for such violations, it is often necessary to secure the services of a certified transportation expert who can evaluate the facts of the case and render an opinion as to the various rules, regulations, and laws that may have been violated. This serves to demonstrate the complexity of these sorts of cases and the importance of seeking advice from an experienced law firm.
Crashes involving school buses
Between 2008 and 2019, nationally, there were well over 1,000 fatal crashes involving school buses and thousands more injury cases. Many school buses are not equipped with seat belts. In fact, unless a school bus has a gross weight of 10,000 pounds or more, there is no requirement whatsoever that it be equipped with seatbelts.
Alternatively, the National Highway Traffic Safety Administration (NHTSA) has implemented a concept called "compartmentalization" that is designed to protect children without seatbelts by providing tight riding spaces through closely spaced seats that are strong, secure, and capable of absorbing significant energy from high energy collisions.
In addition to "compartmentalization," the NHTSA relies upon the size and strength of the bus to provide protection. Accordingly, school buses with gross weights less than 10,000 pounds are not required to have seatbelts. However, these safety rules assume ideal situations and do not adequately consider lateral or side impacts.
"Compartmentalization" does little to protect children against crashes of this sort, leaving them vulnerable to fatal injuries from being slammed sideways across the interior bus compartment or even ejected through the windows, underscoring the importance of seatbelts in all school buses. Use of lap and shoulder seat belts have proven to effectively reduce injury and save lives in all types of Georgia bus accidents.
Despite the NHTS guidelines and "compartmentalization" concepts, school districts have broad discretion to implement safety measures above and beyond that to include the installation of seatbelts. Unfortunately, such determinations are often subject to an economic cost benefit analysis.
For instance, in Alabama, the Governor's Study Group on School Bus Seat Belts and the state Department of Education requested a pilot program to be conducted by the University of Alabama. The Legislature allocated $1.4 million and 12 buses with seat belts were purchased for 10 local school districts. The results of the program, published in a study in October 2010, concluded that seat belts would make school buses safer, but also found that the costs of implementing a program would be greater than the benefits.
Sadly, economic considerations can trump implementation of policies that might otherwise help to ensure the safety of our children and the public at large.
If your child's school district has not yet confronted this issue, we strongly encourage you to contact the school board and hold them accountable for their failure in this regard. However, don't stop there. Reach out to parent student organizations within your district and push for change. Education and awareness can be powerful.
And if you or your child suffer an injury involving a school bus incident, there are many things you should know. For starters, school districts are required to purchase insurance for the benefit of children riding in them. Such policies must protect against injury or death resulting from any accident or collision involving a school bus.
However, the amount of such insurance is within the discretion of each individual school board.
According to O.C.G.A. § 20-2-1090. Accident insurance for children on school buses:
"The various school boards of the counties, cities, and independent school systems employing school buses are authorized and required to cause policies of insurance to be issued insuring the school children riding therein to and from school against bodily injury or death at any time resulting from an accident or collision in which such buses are involved. The amount of such insurance shall be within the discretion of the respective boards."
And, it may come as a surprise to some that school boards in Georgia have elected to purchase policies with bare bones coverage, with as little as $5,000 per child of coverage for medical and funeral expenses.
As for others injured in bus wrecks, school boards in Georgia are authorized to purchase policies of insurance for their benefit, but there is no requirement to do so. According to O.C.G.A. § 20-2-1092. Insurance coverage for general public; waiver of school board's immunity:
"The various school boards are authorized to cause a provision to be inserted in policies issued under Code Section 20-2-1090 insuring the members of the general public against personal injury or death or damage to property resulting from the negligent operation of the school buses. Nothing, however, in this part shall be construed as imposing legal liability upon such boards on account of such accidents. Wherever an insurance company issues a policy containing such a provision, the company shall be stopped to deny its liability thereunder on account of the nonliability of the school board."
Despite this, most school boards in Georgia have secured such policies. Some, however, have not. This is troubling and can leave a car wreck victim with little or no financial recourse to compensate them for any injuries suffered in the wreck beyond their own uninsured/underinsured motorist policy.
Auto accidents involving buses of all types often result in serious injury or death. And cases of this sort are cloaked with a myriad of complex laws and regulations. Interpreting them is often difficult and requires the involvement of a certified public transportation expert.
If you, a family member, close friend, or loved one ever suffers from this sort of situation, it is vital that you seek timely advice from a law firm with the experience and expertise to handle these difficult cases. Call us at (866) 592-1296 or contact us online today for a free, no-obligation consultation.
Atlanta Car Accident Lawyer, Atlanta Wrongful Death Lawyer, Atlanta Motorcycle Accident Lawyer