Walton County, Georgia Personal Injury Lawyer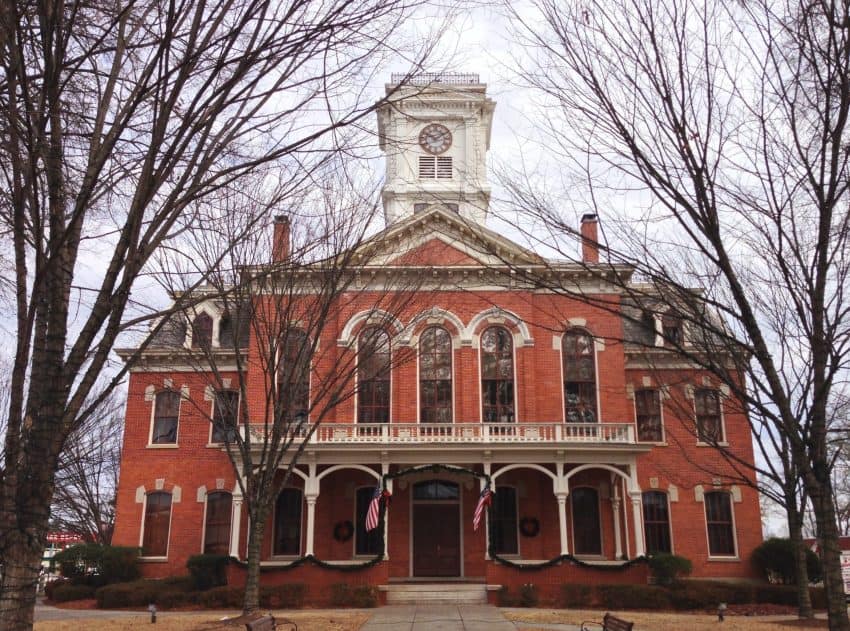 Walton County was founded on December 15, 1818. The county was named for George Walton, a delegate from Georgia who signed the Declaration of Independence. Only two other Georgians signed the Declaration of Independence: Button Gwinnett and Lyman Hall.
Walton County is part of the metro Atlanta area and it is home to many municipalities that serve as suburbs for the city of Atlanta and the city of Athens. The county seat is Monroe. Some other municipalities and other neighborhoods of Walton include Loganville, Between, Social Circle, and Walnut Grove.
The county has historically been comprised of mostly undeveloped farmland, but as the population has increased and the Atlanta exurbs have extended beyond the metro counties, Walton County developers are buying up large tracts of land and increasing the number of subdivisions, forever altering the rural landscape. Walton's current population is 93,284 and is continuously growing.
The major highways traversing Walton County include Interstate 20, U.S. Route 78, State Route 11, State Route 20, State Route 81, State Route 83, and State Route 138.
Because of Walton's ever-growing population and proximity to major highways, traffic accidents are common in the area. These car wrecks, truck accidents, and motorcycle collisions often result in little more than minor injuries and property damage. But when a serious accidents happen, they can cause catastrophic injuries — up to and including wrongful death.
If you or someone you know has been the victim of another party's negligence or reckless behavior, you need solid legal representation to file a personal injury lawsuit and claim for compensation. The accomplished lawyers at Scholle Law have over 25 years of experience representing injury victims throughout Georgia.
Call us at (866) 592-1296 or contact us online today for a free, no-obligation consultation with a Walton County personal injury lawyer.
Walton County Car Accidents
According to the Georgia Department of Transportation, there were 2,303 car accidents in Walton County in 2020. These collisions resulted in 877 injuries and 10 fatalities.
The expenses that you bear as a result of an accident caused due to the negligence of another individual can be recovered by law, which is why seeking legal representation through a trusted personal injury attorney should be a priority.
Scholle Law has served the residents of Georgia with professionalism, dedication, and an unwavering commitment to fighting for justice. We understand that fair compensation is more than just medical bills, and covers lost wages and the intangible cost of emotional stress.
Our lawyers gather witness testimony, police reports, and conduct on-site investigations to ensure that our clients get the justice they deserve. 
Walton County Motorcycle Accidents
Motorcycles lack the enclosed shell that vehicles have to mitigate injury for the riders. As a result, bikers are at an immediate disadvantage, and even a seemingly minor motorcycle accident can throw them off their bikes resulting in severe injuries.
Many motorcyclists have to go through extensive medical treatment, in addition to mental trauma and a decreased standard of living due to another driver's negligence. In such cases, a swift legal claim can be made against dangerous drivers that have threatened both your life and livelihood.
This gives you an opportunity to recover damages to compensate your injuries, mental anguish, property damage, and other losses. However, understanding the law and fighting the negative perception against bikers can be an uphill struggle for many. This is where the expert motorcycle accident attorneys at Scholle Law come in.
Charles Scholle is well-known in Georgia as a top personal injury lawyer, having received several accolades for his service to the residents of the state. He and his team of attorneys will fight for the justice and compensation you deserve.
Walton County Truck Accidents
There is extensive heavy vehicle movement throughout the highways situated near Walton County. The abundance of large vehicles and the fact that trucker often must work long, demanding shifts to maintain tight delivery schedules increases the probability of semi truck accidents in the area.
A momentary lapse of concentration on the part of a truck driver can result in immediate injuries if not outright fatalities. Truck accidents can cause victims to lose limbs and even suffer brain injuries that take years to heal.
The law allows victims to claim for personal injury as they take time to heal, both physically and mentally, and to relieve the crushing financial strain under which they may suddenly find themselves. 
Trucking companies seek to mislead victims by offering unreasonable settlement offers to keep their profits high. The attorneys at Scholle Law are highly skilled in navigating through and combatting such tactics to ensure our client's compensation is maximized. 
Walton County Wrongful Death
The wrongful death of any person is one of the greater injustices in life. The negligent behavior of an individual can result in an innocent victim losing their life, and the family of the victim suffering mentally and financially.
The victim leaves behind a grieving family deprived of for financial stability, in addition to the emotional distress they are coping up with. The law states that if a death can be proved to have been caused due to the neglect or recklessness of another party, then a claim for wrongful death seeking compensation can be made.
At Scholle Law, we respect the emotional state of the grieving family and their need to attain both compassionate and dedicated legal representation. Our wrongful death attorneys will fight for  the compensation and closure your family deserves.
The accomplished lawyers at Scholle Law have over 25 years of experience representing injury victims throughout Georgia. Call us at (866) 592-1296 or contact us online today for a free, no-obligation consultation with a Walton County personal injury lawyer.
Atlanta Car Accident Lawyer, Atlanta Wrongful Death Lawyer, Atlanta Motorcycle Accident Lawyer, Atlanta Truck Accident Lawyer