Main office
6340 Sugarloaf Pkwy
Suite 150
Duluth, GA 30097

***By appointment only***
Se habla Español
Scholle Law helps auto accident victims throughout Georgia get fair compensation for their injuries.
Offices in Atlanta, Duluth and Decatur, Georgia
After a serious car accident, it can be difficult to think about going to court. If you're dealing with a serious injury, you may have pain, concerns about disability, lots of phone calls from insurance companies, multiple medical appointments to keep and worries about missing some paychecks.
Simply put, a lawsuit is probably not at the top of your priority list right now.
But when the accident was caused by someone else's carelessness, a lawsuit can help you address those issues and more. An auto accident injury suit can also help you get the compensation you need from an insurance company that refuses to pay your claim.
Scholle Law has more than 20 years of experience working with people who were seriously injured in auto accidents in Gwinnett County and around the state of Georgia. We're proud of our record of results in car accident cases, and we offer free, no-obligation consultations to residents of Berkeley Lake and across Metro Atlanta.
Call us today for a free consultation. Even if you don't ultimately hire us, we want you to understand your legal rights.
We've recovered over $75 million for our clients
$5,500,000 Auto crash
$915,000 Auto accident case
$441,000 Automobile accident
$441,000 Auto accident
$300,000 Rear-end collision
$300,000 Automobile accident
Meet attorney Charles Scholle
"…Every week, I experience a client who's dealing with the worst time that they've ever had to experience. They're injured. They can't pay their medical expenses. They don't know when they're going to be able to work again."
"…I always like the underdog. I always like representing the little guy. I don't want to represent the corporation or the insurance company."
"…We like to have a personal relation with our clients…because that helps us be better lawyers…and serve their interests."
Contact us to speak with a lawyer about your accident.
We're available 24/7 and your first consultation is free.
Call 866-972-5287 or send us a message online
Why hire an attorney after a Berkeley Lake car accident?
Minor car crashes may not need legal intervention.
But if a serious injury, such as a traumatic brain injury, chronic pain or a wrongful death resulted from your accident, you may soon start getting a steady stream of calls from insurance companies. Those companies want to limit the cost of the accident to them; that's how they stay in business.
Particularly in cases of serious and expensive injuries, they may deny you compensation that you're clearly entitled to under the insurance policy that applies. They may try to get you to sign away your rights or use seemingly minor facts—for example, that you apologized at the scene—to argue that you aren't entitled to payment.
Make no mistake, insurance companies are looking out for themselves.
So who's looking out for you?
Unless you've worked in personal injury law or insurance, you're coming to this fight with less knowledge and experience than the other side. Hiring an experienced Georgia auto accident law firm like Scholle Law levels the playing field.
Why hire Scholle Law?
Auto accidents are a cornerstone of our practice at Scholle Law. For more than 2 decades, we have helped injured people in Berkeley Lake, Gwinnett County and throughout Georgia get the payment they need to support their medical care, make ends meet and be fairly compensated for life-changing injuries.
Because of this experience, we are extremely familiar with the legal rights of Georgia residents and the best things they can do after a crash.
We can handle all of the stressful accident-related tasks that fall to victims after a crash, freeing our clients to focus on their recovery.
We will:
Describe what you can expect from your claim
Prevent inadvertent mistakes that could reduce your recovery
Protect your rights from aggressive insurance companies
Investigate an accident, even if the police report falls short
Properly calculate the financial compensation you can claim for your medical bills, lost wages, injuries and more
Negotiate with auto insurers, health insurers and Medicaid/Medicare
What to do after a car accident
Imagine you're in your car on your way to drop your kids off at Duluth High School. You see the red light up ahead and you slowly start to hit your brakes. Before you know it, the driver of the car behind you has just bumped into you because they didn't see you braking.
Here are the steps you should take following a car accident in Berkeley Lake or anywhere else in Georgia:
Pull over and call 911. First, make sure you stop your car and swap information with the other people involved in the accident. Call the police, even if you don't think anyone seems hurt. The police will write up an accident report that includes who was cited, where the accident took place and a diagram of what happened.
Record what happened. Once you have filed a report with the police officer, make sure you are prepared to recount the incident to an attorney. Write the details of the accident down while they are fresh in your mind. Record information including the time of the accident, the make and model of the car involved, the contact and personal information of all those involved, the location of the collision, the road conditions and, if possible, the contact information of the police officer who drafted the report. This report can help your attorney get an unbiased view of the facts, so he can tell you whether the severity of your accident will merit hiring an attorney.
See a doctor. Another thing you should do as soon as the accident happens is make sure you go to the doctor. Often, minor car accidents can still result in some injuries like neck injury, spine injury, back or head injury. One of the most important things to remember is that even if you don't want to go to the hospital via an ambulance, it's extremely important to get to a doctor right away and tell them what hurts. Having a doctor's notes in writing will help your lawyer interpret how the injuries you sustained were caused by the accident and how they may practically impact your life going forward.
Notify your insurance company. Shortly after the collision, you should contact your auto insurance company to let them know that you've been involved in a car accident. Avoid giving a recorded statement at this time, and absolutely do not sign any document they provide you until you've first had a chance to speak with your lawyer.
Talk to an attorney near you. If you have questions about your legal rights, contact trusted personal injury lawyer Charles Scholle so that he can begin to help you deal with the financial burdens of the accident. Because of his experience in dealing with other cases in Berkeley Lake, Georgia, Charles will work to get you the compensation that you need.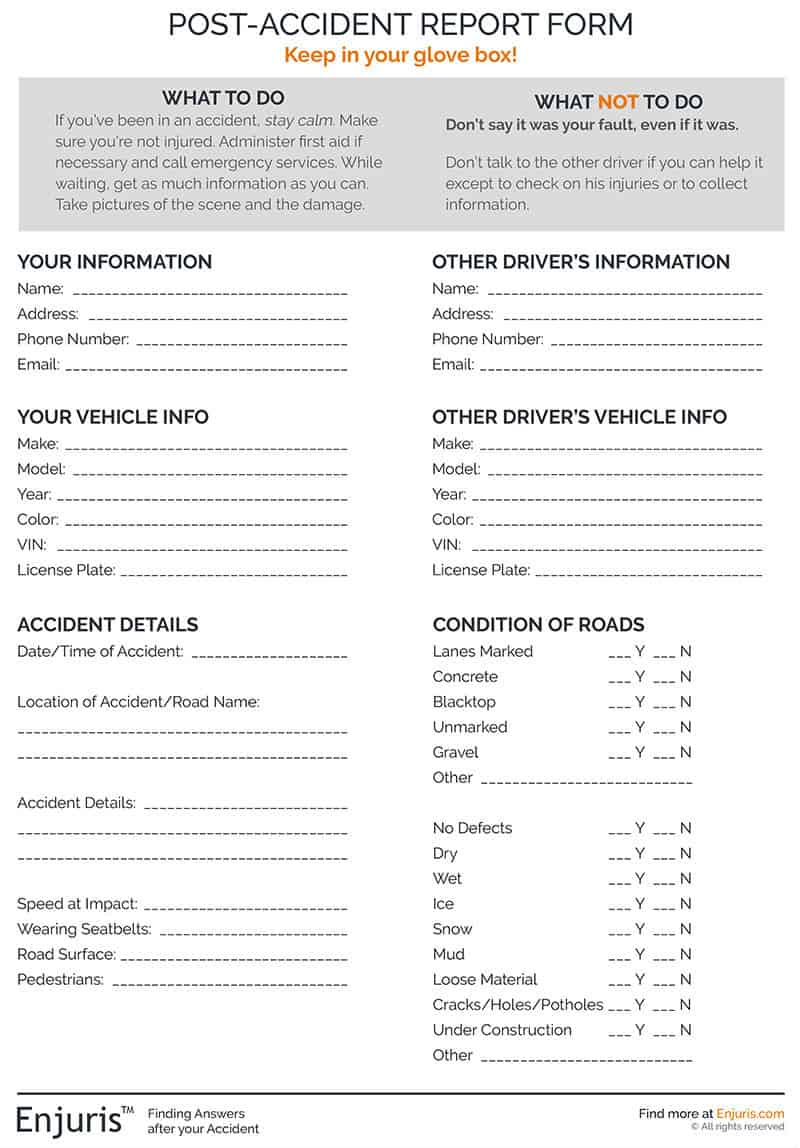 Keep in your glove box!
WHAT TO DO
If you've been in an accident, stay calm. Make sure you're not injured. Administer first aid if necessary and call emergency services. While waiting, get as much information as you can. Take pictures of the scene and the damage.
Don't say it was your fault, even if it was.
Don't talk to the other driver if you can help it except to check on his injuries or to collect information.
Free consultation for Gwinnett County car accident victims
Life after a serious accident can be difficult—but fair compensation can help ease the financial side of it. During your free, no-obligation consultation, we invite you to tell us your story. We'll give you our best judgment about your case — honed by years of representing car accident victims — about what you might be able to recover.
Depending on your situation, that could include:
Payment of medical bills caused by the accident
Money for future medical costs
Replacement of income lost if you are unable to work because of your injuries
Compensation for a permanent injury or disability
Compensation for chronic pain and suffering
Compensation for the death of a family member, including the loss of their wages as well as their companionship
If you'd like to discuss your situation and your options with an experienced Georgia auto accident lawyer, don't hesitate to contact Scholle Law online or give us a call for your free consultation.
What kind of case do you want to learn more about?
Local resources for Berkeley Lake, GA residents
Dedicated to Excellence, Committed to Results
I needed a good lawyer to represent me
The damages and the medical bills from the accident were too high…It was a very difficult case…I was very happy with the outcome of the settlement. The quality of Charles' service was wonderful."
John R. – Serious injuries from a car accident
View our clients' video testimonials